The following story about the old farm house "De Zwaan" has been written probably about 1992 by Gerrit Jan van Roekel. It is unknown where he found the historical facts and figures. With the story came a very old picture of poor quality, therefore a recent photo has been added, taken about 2002.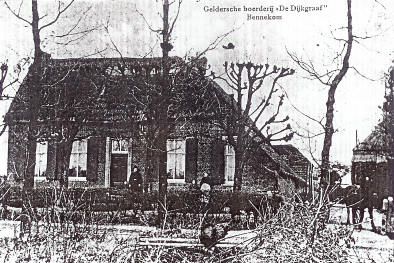 Farm house "De Swaen"
As early as on a map of 1723 there occurs a farm with the name mentioned above. Now in 1992 the farm house is still there at the address Dijkgraaf 11 in Bennekom. The farm was unjustly renamed "De Dijkgraaf" lateron, this name is also on the old picture. It would however be a pity to forget the old name. Presumably before 1829 the owner has been Geurt van Steenbeek and when his daughter Hendrikje marries Geurt van Roekel Jac. Zn. born on March 16-th, 1806 the couple inherits the farm and are going to live in it. In 1832 Geurt is registered as owner. This Geurt van Roekel has been "buurtmeester" [master of the neighbourhood] of the lower neighbourhood of Bennekom [the municipality of Bennekom consisted of two neighbourhoods, the upper neighbourhood in the lower western part of the village and the upper neighbourhood on the higher eastern part of Bennekom] from 1845 to his death in november 1884, so for more than 39 years. From this marriage 9 children were born, 5 boys and 4 girls. In 1866 Hendrikje van Roekel - Steenbeek dies and Geurt will have continued farming with daughter Rijkje, lateron also named "aunt Riek", as housekeeper and Geurt Jr. as farm hand. Rijkje was the youngest daughter and Geurt the youngest son still living at home. At that time the youngest son Willem had already departed to Arnhem where he was a teacher. Willem married later in life.
Geurt Jr marries Jantje van Pothoven in 1880, widow of Gerrit Blankenstein. She had two children from her previous marriage [Remark: a daughter Anna and a son Bert who both take the name van Roekel and both emigrate with the rest of the family to the USA], both born in Kamerik. Geurt en Jantje get 7 children, 6 sons and 1 daughter. Geurt Sr is already 74 year then and 4 years later in 1884 he dies. The division of the inheritance follows in 1886 and Geurt Jr becomes owner of the farm and presumably Rijkje, at that time already married to Jan Kroesbergen, inherits a part of the farm land. At the occasion of the division of the common land of the "buurt" [when the lower neighbourhood ceased to exist its possessions were divided among the official members] in 1889 Geurt Jr is registered on the official list of members as owner of the farm and land under number 194. This proves that he was the legal owner of the farm "De Zwaan".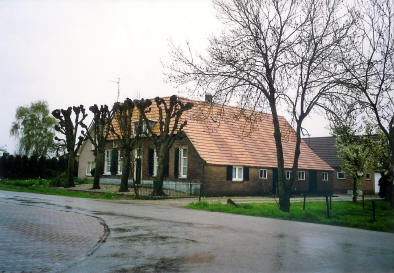 In 1892 Geurt van Roekel with his wife and 7 children, presumably with only the oldest Blankenstein stepdaughter [See the remark above], to Sioux Center in the state Iowa in America. The farm comes in the possession of younger brother Willem, the teacher. It is difficult to find out the reason for the emigration of Geurt Jr and his family. It is known however that in 1892 133 inhabitants of the municipality of Ede [of which Bennekom then was a part] emigrated to the U.S.A., most of whom because of the bad economical situation in Holland. It was a difficult time for farmers and Geurt with his 6 boys might have thaught: how can these boys of mine make a living here in the future? Also there were quite a number of problems in the church of Bennekom. There had been a separation from the, at that time still young, Reformed Church to the Christian Reformed Church [in Holland we have a lot of different churches, often differing on minute theological details]. We do not know whether also these church difficulties played a part in the dicision of Geurt to emigrate.
Willem, who took over the farm, liked teaching children mor than farming and rented it to Martinus Joosten. Joosten was in the horse sales business, so he did not need much land. The man on the old picture, with horse and wagon, is Martinus Joosten, or Tinus as he was mostly called, or even shorter, just: Ties.

A daughter-in-law of this Martinus Joosten still lives on the old farm [Remark: this was still the case in the summer of 2005] but a new house has been built beside it. Here lives a grand daughter of the horse salesman Martinus Joosten. It is a pity that the old farm is on the nomination to be demolished. Restauration seems to be almost impossible. Much has been changed to the old farm house. The back- and side facades were constructed of wood in the old time but replaced by brick walls. The old barn is still there but has been elongated to get more space. The old hay stack has been demolished but one of the rods which beared the roof can be seen along one of the facades and now serves as support for the television antenna. We hope that the granddaughter of Martinus will give het new house the old name so that it will conserved.

© Gijs van Roekel, Maarn 2005