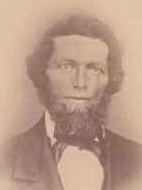 Came to the USA in 1865.
Was married to Grada Jansen in the Netherlands. She was born 20 November 1823 in Wageningen and died in Bennekom 3 September 1861. Jan Harmsen Van Roekel was married to Grada Jansen on October 22, 1847 in Wageningen, Gelderland, Netherlands.
Jan Harmsen and Grada had eight children: Willempje (Winnie) Van Roekel 1848, Martina Van Roekel 1849, Albertus Van Roekel 1850, Geurt Van Roekel 1852, Grada Van Roekel 1855, No Name Van Roekel 1857, Abraham Van Roekel 1859 and No Name Van Roekel 1861.
On December 21, 1865, after the death of his wife, Jan and six children emigrate to America. His oldest daughter Willempje died during the voyage and was buried at sea. The family moved to Pella, Marion County, Iowa.
Merritje (Maartje) van Roekel 1816-1891 d. Netherlands
Bart van Roekel 1821- 1842 d. Netherlands
Geertruida van Roekel 1824- d.
Geertje van Roekel 1827-1909 d.Netherlands
Rut van Roekel 1829-1895 d. Pella, Iowa, USA
Willem van Roekel 1830-1908 d. Iowa, USA Memorial ID 94185399
Hendrik van Roekel 1835-1924 d. Iowa, USA Memorial ID 120190764
Jannis (Jannes) van Roekel 1838-1838 d. Netherlands