VANDE BERG, JOHN AND WILHELMINA (KASTEIN)
John Vande Berg was born Jan Vanden Berg in Oldebroek Holland on April 3, 1845. He came to America as a single young man in 1865 at 19 years of age. He first settled at Alto, WI where many other people from bis home in Holland were settling at the time. After a year his parents family, Beert Vanden Berg and wife Aaltje Juffer and their six children joined him in Alto in April of 1866.
John Vande Berg married Wilhelmina Kastein on November 5, 1869 in Alto, WI. Wilhelmina was born February 8, 1849 in Dinxperloo, Holland to Roelof Kastein and Elizabeth Ter Beest. Wilhelmina came to America with her family in 1867.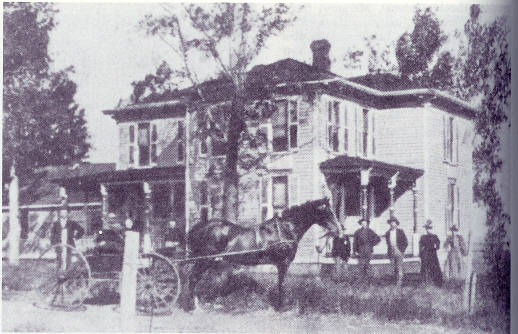 The house built by John Vande Berg on the farm he settled on in 1879, located one mile east and
one half north of the northeast edge of Sioux Center. A great-great-grandson Arlin Vande Berg
lives on the farm today and the farm is owned by his father Elmer Vande Berg.
John and Wilhelmina Vande Berg left Alto, WI in the summer of 1873 by covered wagon drawn by oxen and arrived at the location they homesteaded near Newkirk, JA in Floyd township section 6. They had a very long grueling trip and lost a baby that had to be buried along the way. They lived in a sod house for several years. In 1879 John and Wilhelmina and their three children Alice, Gerrit and Ben moved to Welcome township section 34, about one mile east and one half north of what is now the northeast edge of Sioux Center. The area settled in was nothing but prairie at the and was called Ninety-Six, until John renamed it Welcome Township, and as the name implies, all were welcome. The family moved into a shanty on the 380 acres that John had purchased for $2.00 per acre. John's brother Henry, had lived in this shanty the previous year while he was breaking some prairie for his brother. Shortly after moving there a son, Ralph, was born and he is believed to be the first child born in the township. There is more information in the history section of this book on their early Welcome Township days.
At that time food and staples had to be bought at Lemars and brought back in barrels. In order to collect enough fuel the children were sent out on the prairie to gather anything that would burn including buffalo chips. A room in the family home was always ready for travelers that stopped by and any one who needed hospitality. On one occasion when the children were older, the parents and the two youngest daughters Gertrude and Mina went on an extended trip back to Holland about in 1900, some rough looking characters came to spend the night at the Vande Berg home. The children ware quite nervous and they put chairs under the door knobs and furniture up against the doors that night. They ware glad to see the unwelcome visitors leave in the morning.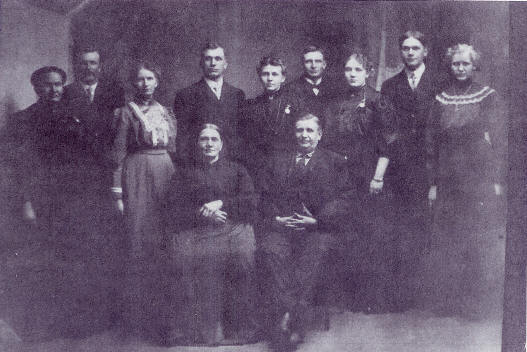 John Vande Berg Family about 1905. Seated: Wilhelmina (Kastein) Vande Berg 1849-1912 and
John Vande Berg 1845-1907. Standing L-R: Alice Vande Berg (Mrs. Johannes Rozeboom) 1873
-1938 of Sioux Center, Gerrit Vande Berg 1874-1950 of Sioux Center, Elizabeth Vande Berg (Mrs.
Jacob Gorzeman) 1800-1952 of Hull IA, Ben Vande Berg 1877-1944 of Sioux Center, Hattie
Vande Berg (Mrs. Gerrit Van Roekel) 1883-1974 of Sioux Center, Ralph Vande Berg 1879-1955
of Sioux Center, Gertrude Vande Berg (Mrs. JohnDe Roos) 1887-1957 of Hull IA, John Vande
Berg 1885-1963 of Hull IA, and Mina Vande Berg (Mrs. Andrew De Roos) 1892 of Hull IA.
A granddaughter recalls her mother telling of butchering time on the farm. A large brick oven was in the grove for the purpose of cooking and smoking the meat. One day daughter Elizabeth and Driesje (Hattie) were stoking up the huge brick oven and an awful noise came from inside, to their surprise out jumped a very singed cat.
From the time John Vande Berg settled near Sioux Center in 1879 until his death in 1907 at only sixty two years of age, this ambitious sturdy Dutch pioneer had endured many hardships, and accomplished a tremendous amount in the area, with his contribution to the county. politics of the day. He founded and named Welcome Township, he actively established the first country schools as well as helped organize the Sioux Center schools. He helped organize the first church in Sioux Center and the family were members of the Reformed Church in Sioux Center until l903. He established several businesses which included a creamery in Welcome Township, and he was one of the founders and president of the Farmers and Merchants Bank in Sioux Center from about 1984 to 1900. He was also reported to have been a trustee at a college in Holland MI in the college's early days. He traveled to Michigan quite often because of family ties there, also. He acquired many farms in the area and added to this domain by hiring the emigrants to whom he sent tickets in Holland to come to America. These emigrants would have to work for him for a certain period of time to repay their passage fee, but occasionally one would leave prematurely only to be tracked down by John and be forced to fill his obligation.
His influence at the time earned him the title "King John," He built a large home on the home place that is now owned by Elmer Vande Berg, a great grandson, and Arlin Vande Berg, a great great grandson, now lives on the old home place. The main part of the original house remains having been remodeled over the years. John left each of his children a farm at his death.
John and Wilhelmina moved to Hull in 1903 to spend the last years of their life, however, John died in 1907 and he and his wife and at least three of their children that died at young ages are buried in the family plot in the local cemetery. A large granite tombstone in the old part of the cemetery marks this plot. The tombstone was so heavy that moving it from the railroad to the cemetery broke any hard surfaces it passed over.
Many local residents of Sioux Center are descendants of this pioneer family. Many of their descendants are scattered all the United States, also.
By Wilma J. Vande Berg