MRS. MINNIE NIEMEYER
Mrs. Henry (Minnie) Niemeyer, the former Mrs. Gerrit J. Van Roekel, 87, died Friday at the Pella Community Hospital. She was born Sept. 27, 1885 in Mahaska County, the daughter of Ryk and Tryntje De Wild Van Heukelom.
She married Gerrit J Van Roekel on Feb. 18, 1904 at Pella and he preceded her in death in 1943. She married Henry Niemeyer on Oct. 25,1945 at Pella and he preceded her in death in 1967
She spent her entire lifetime in the Pella area The Van Roekels farmed until the time of his death when she moved to Pella. She was a resident of Fair Haven the past two years.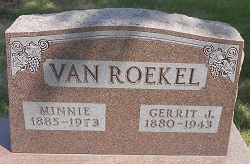 She is survived by her children- Louis G. Van Roekel. Richard Van Roekel and Mrs. Dave (Stevanna) Roorda, all from Pella, Henry A Van Roekel, Leighton, and Mrs Henry (Tena) Roorda, Pella, 13 grandchildren; 26 great-grandchildren; three sisters -- Mrs Abram (Johanna) Bogaards and Mrs. A.T. (Jennie) Ver Meer, both from Pella; and Mrs. Cornie (Caroline) De Goey, Newton.
She is preceded in death by her husbands; three brothers - Gerrit, Teunis and Albert Van Heukelom; and two sisters - Mrs. Peter (Henrietta) Olivier and Mrs James (Bertha) Nunnikhoven.
She was a member of Trinity Reformed Church in Pella at the time of her death.
Funeral services were Monday at the Trinity Reformed Church with Rev. Wayne Hall officiating. Casket Bearers were: Louis G Van Roekel, Richard Van Roekel, Henry A. Van Roekel, Dave Roorda and Henry Roorda. Interment was in Black Oak Cemetery in Mahaska County and arrangements were made by the Garden Chapel Funeral Home.
(From The Pella Chronicle, Wednesday , August 1st, 1973, Page 7)