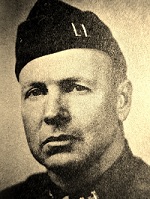 Seth Howard Macy was born June 30,1907 the fifth of six sons born to E.B. Macy and Julia Whitlock Macy. Howard graduated from Lynnville High School and then from Grinnell College in 1929 and in Civil Engineering from Carnegie Institute of Technology in 1932. During his senior year at college he worked on the Burlington Railroad firing a steam locomotive going from Ottumwa on west. Since the nation was in the depths of the Great Depression and there were no engineeering jobs available Howard taught school. He served as high school principal and athletic coach at Lynnville High School (1932-1936) until joining Macy Brothers upon the death of his uncle, C.O. Macy, in 1936.
Harriett Van Roekel and Howard were married September 12,1936.
During World War II, Howard served with the Corps of Engineers at Calcutta. He volunteered for combat service in Burma, so the last half year of World War II he was with the Merrillsi' Marauders. Their purpose was to open the Burma and Ledo roads from India to China to stop the Japanese advancement toward India and halt them from hauling supplies from India to China.
While Howard was in the service, he was transferred up to St. Paul Minnesota, so Harriett went to live with him. They were there one month and Howard was shipped overseas. She remained in St. Paul for the duration of the war working for Army Engineers and staying with Howard's older brother, Roscue.
In 1947, Howard came back to work at Macy Brothers. howard started the concrete business in Lynnville, and in 1953 he opened another office in Grinnell. When Howard's father left, Harriet took over the bookkeeping.
In 1948, Howard's brother Earl joined the business, where he ran the Searsboro, Lumber, Feed & Grain.
Earl remained until his retirement in 1968, then Harriett took over the the Searsboro business and Howard ran the ready mix plant. Eventually, they sold the Searsboro business and Harriet just did the bookkeeping.
Beginning in the 1960's, Howard started to run a weekly editorial advertisement in the Grinnell Herald-Register. By the mid 70s, Howard prepared and recorded a weekly editorial for KGRN in Grinnell, which ran six days a week.
He prepared over 5,500 one minute speeches that covered such topics as local news, current events, national and international events, but on Saturday he usually presented a religious talk.
His last editorial ran April 30, 1991, when he also sold Macy Brothers ready mix plant and retired.
Howard had taught a Senior Sunday School class, and was a member of the Grinnell Kiwanis and the Lynnville Masonic Lodge.
*Information was obtained from the book "Lynnville 1875-2000"
---
Obituary:
Howard Macy,94, of Lynnville died Tuesday, August 21, at the Mayflower Health Care Center in Grinnell.
Funeral services were conducted Friday at the Smith Funeral Home with the Rev. Pete Schuler, pastor of the Taintor Community Church, officiating. Organist was Nancy Toppenberg. Pallbearers were Brian, Bradley and Brent Van Roekel, Dave Van Rees; Dwight Beyer; and Kevin Schultz.
Veterans ceremonial rites were performed by members of the Grinnell American Legion. Private family interment was at Woodland Cemetery, Lynnville.
The son of E.B. and Julia Whitlock Macy, he was born June 30, 1907, in Lynnville. He was a graduate of Lynnville High School and a 1929 graduate of Grinnell College. He later earned a degree in civil engineering at Carnegie Tech, Pittsburgh, Pa.
Mr. Macy returned to Lynnville and taught high school. He later joined Macy Brothers, a lumber, feed and grain business started by his father and uncle. In 1950, he and his brother started the Macy Corporation, a ready-mix concrete operation located on Lake Nyanaz in Grinnell.
During World War II, Mr. Macy served with the U.S. Army in the China, Burma and India theater. His unit won the Distinguished Unit Citation and the Bronze Star.
He was married to Harriet Van Roekel September 12, 1936, in Pella. He made their home in Lynnville, and Mrs. Macy became her husband's sole business partner until their retirement in 1990.
Mr. Macy was a member of the Lynnville Friends Church, where he taught Sunday school for many years. He was also a member of the Grinnell Kiwanis Club and a 50 year member of the Lynnville Masonic Lodge. He served on the board of Iowa Realty Trust and was a former class agent for the Grinnell College Class of 1929.
His wife, Harriet survives. He was preceded in death by his parents and five brothers, Russell, Dwight, Roscoe, Earl, and Francis.
---
HARRIET MACY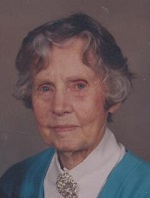 Harriet Macy, 95, of Grinnell, and formerly of Lynnville, died Saturday, November 13, 2004 at the Mayflower Home Health Care Center in Grinnell.
A funeral service for Harriet Macy will be held at 2 p.m., Tuesday, November 16, at the Smith Funeral Home in Grinnell with the Rev. Pete Schuler officiating. Casket bearers will be Dwight Beyer, Steve Davis, Kevin Schultz, Brian Van Roekel, Bradley Van Roekel, and Brent Van Roekel. Interment will be at Woodland Cemetery in Lynnville.
Public visitation hours will be held from 12 noon to 8 p.m. on Monday at the Smith Funeral Home. The family will be present for a time of visitation prior to the funeral service beginning at 12:30 p.m. on Tuesday at the Smith Funeral Home.
Should friends desire, memorial contributions may be directed to the Lynnville Historical Museum.
Harriet Van Roekel Macy was born the youngest of four children to Anthony T. and Frances DeVries Van Roekel on September 4, 1909, at the farm home of her parents in Marion County, Iowa. She attended grade school at Pleasant Grove and was a Monroe High School graduate with the class of 1927.
She shared her musical ability while a young girl by playing in the LeGrand Orchestra, made up of a group of young people in her neighborhood. She played both the piano and the bass violin.
She attended Central College in Pella, Iowa, where she graduated in 1933 with degrees in both English and Music. Following her graduation, she taught 3rd and 4th grades and Vocal Music in Lynnville for two years. It was there that she met Howard and they were married in her mother's home in Pella on September 12, 1936.
After her marriage to Howard, she became a homemaker in Lynnville, where she gave private piano lessons, sometimes going to her students' homes to do so. When Howard entered military service during World War II and was stationed in St. Paul, Minnesota, Harriet followed him there where she was employed by the Army Engineers and volunteered with the American Red Cross. Howard was soon sent overseas, but Harriet remained in St. Paul, where she lived with Roscoe and Mabel Macy, Howard's brother and sister-in-law.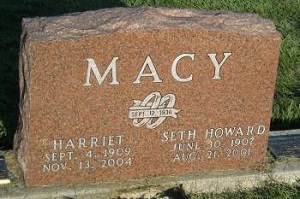 Following the end of the war, they returned to Lynnville, where Howard went into business with his father. In 1950, Howard and his brother, Earl, operated concrete plants in both Lynnville and Grinnell, and a few years later, Howard and Harriet purchased the Searsboro Feed and Grain business in Searsboro. An astute businesswoman, Harriet spent her mornings in Lynnville doing bookwork for the cement business and her afternoons in Searsboro doing bookwork for the feed and grain business. Even after selling the Searsboro Feed and Grain business, she continued doing bookwork for them.
After living in Lynnville for many years, in 2000 she moved to a Mayflower apartment in Grinnell to be closer to Howard, who was then a resident of the Mayflower Home Health Care Center. For the past year, she has been a resident of the health care center.
Harriet was a faithful member of the Lynnville Friends Church, where she served as organist and choir director for many years. She also was a member of the Order of Eastern Star Lodge, Soroptomist Club, and a charter member of the Lynnville Women's Club.
Harriet was preceded in death by her husband, Howard, who died August 21, 2001. She was also preceded in death by her parents, Anthony T. and Frances DeVries Van Roekel; her two brothers, John A. Van Roekel and Henry Van Roekel; her sister, Edna Van Roekel Terpstra; and her nephew, Bruce D. Van Roekel. She will be lovingly missed by her family of nieces and nephews, Kay McGarry of Surprise, Arizona, Rae Gregory of Newton, Iowa, Dwain Van Roekel of Newton, Tony Van Roekel of Plano, Texas, Tim Van Roekel of Batavia, Ohio, and Merritt Van Roekel of Monroe, Iowa.