HULSTEIN, WILLIAM AND SUSIE (DE VRIES)
William Hulstein was born in Bennekom, Netherlands, the oldest son of Cornelius and Rikje (Van Roekel) Hulstein. He was born on Oct. 10, 1858. The family farmed in Holland until April 1871, when they left for the Pella, Iowa, area. Although the family liked Pella, Mr. Hulstein wanted to go further in the great free land. So in May 1878, he adventured to Sioux County. The land seemed to be fertile and good to cultivate into crops.
On this trip, Cornelius was holding the horses, when he got the halter rope around his finger. The horse pulled and damaged muscles in his arm and hand. so, in June, his oldest son William followed him to Sioux Center to see how his father was getting along. The following February (1879), the remainder of the family joined them there.
Life was not easy. Diphtheria took a younger sister. Grasshoppers and a hailstorm took their first crop. Winter 1880-81 was severe with mountains of snow.
William married Sjoertje (Susie) De Vries. Susie had been born in Franker, Friesland, Netherlands in 1863. She was the youngest child of Syie and Johanna (Wynia) De Vries. She had come to America just 3 years before her marriage to William, Nov. 21, 1883.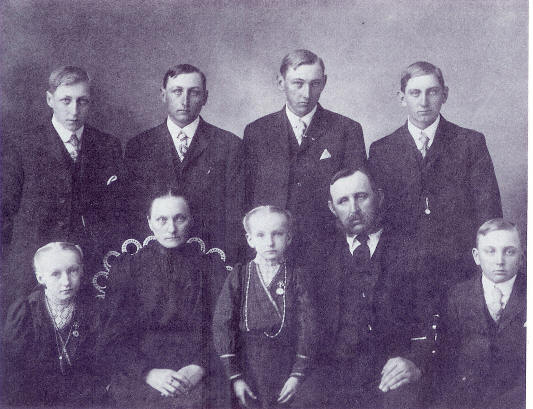 William Hulstein Family. Back Row L-R: Seine, Cornelius, Johannes, Richard.
Front Row L-R: Johanna, Sjertje "Susie", Reka (Mrs. Joe Horstman), William and Gerrit.
They began farming 1/4 mile east of the present north side of Sioux Center. William's father had bought this land for $2.50 an acre. Later, they bought 160 acres, 3 miles west and 1/4 north of No. Sioux Center.
They grew most of their own food of which some was stored in cellars. Beans and apples ware dried and hung in a cool place. Dried beef was kept in the oats bin while pork was stored beneath lard after butchering.
William served as one of the charter members of the Farmer's Co-op Society Board of Directors. This enterprise was organized in May of 1907.
They had 5 sons, Cornelius, Johannes, Richard, Seine, and Gerrit and 2 daughters, Johanna and Reka. All 7 lived their lives in the Sioux Center area and have died there. Many of the 12 grandchildren live in this area yet.
Another youngster was taken into the family after the death of William's sister, Cornelia (Hulstein) Dolieslager. The child, Gerrit Dolieslager, was only a few weeks old at the time of his mother's death. After 40 years of marriage, Susie died; 1923. Later, William retired on his original farm 1/4 mile east of Sioux Center which had been kept in the family all the while. William died in 1947.
Cornelius married Martena Plantage. They had 2 children, William C. who married Mary Kluis, and Artie who married Marion Jans Both couples live in Sioux Center.
Johannes never married. He farmed west of town for many years.
Richard married Sara De Vries. They had a son and 2 daughters. William R. married Myna De Jong. Ethel married Alfred Hoogland. They live on a farm near Hospers. Sylvia married Marion Kredit. They reside in Margate, Florida.
Seine married Alice De Weerd. Their son, Wilbur is a Sioux Center resident.
Gerrit married Helen Beernink. They had 3 sons. Wilmer married Adella Juffer. Roland lives in Omaha, Nebraska. He married Carol Bush. Glen married Atty Kuiper. Wilmer and Glen still farm west of town.
Johanna never married. She cared for her father and later died here. Reka married Joe Horstman. They had 3 children. Gerrit married Ruth Westra. William married Gertrude Van Ravenswaay. Both families farm north and west of Sioux Center. Evelyn married Leon Koele. They live in Sheldon.
by Adella F. Hulstein