BALKEMA, NICHOLAS AND CLARA (VAN ROOYEN)
One of the members in the first covered wagon caravan that came to Sioux County from Pella in 1870 was Mrs. Nicholas Balkema (Clara Van Rooyen). Her grandparents Huibert and Klazina Muilenburg and daughter Jannigje "Jennie" (Clara's mother) had come to Pella from Holland in 1849. Huibert was one of the four men chosen by the Pella group in the late 1860's to look for a suitable place in Nortwest IA for the Hollanders to live and Sioux County was the spot they chose.
Born in Pella, IA, on July 26, Clara was the daughter of Mr. and Mrs. Wouter "Walter" Van Rooyen who migrated from Pella and settled on a homestead a mile south of Newkirk, IA. This consisted of 160 acres 80 of which were purchased for $1.50 per acre, 80 given as a homestead by the government, with the ruling that five acres of trees had to be planted. The Van Rooyens lived in their wagon until the sod became firm enough to build a sod house. For many years the Van Rooyen reunion was held on this site every Memorial Day and the farm is still in the Van Rooyen family.
Clara told many interesting stories about her days in Newkirk. She had vivid recollections of her father sitting up all night with his gun while a pack of some thirty-five or forty wolves howled right al the door of their home and another pack was at the barn. The grasshopper scourge a few years after their arrival was another unforgettable experience. In l884 Nicholas Balkema came to Newkirk from Gibbsville, Sheboygan County, Wisconsin, where he was born April7, 1865, to Peter and Tryntje Balkema. After several years of high school he was forced to leave school because of ill health. In Newkirk he lived with his half sister Maggie Baar (Mrs. Lawrence Dykstra) whose husband was the pastor. He taught school for a time before going into the mercantile business and also was in charge of the post office.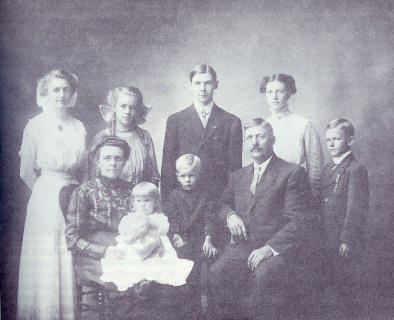 The Nicholas Balkema Family. About 1910. Back Row, L-R: Jeanette
(Mrs. William Van Roekel), Florence (Mrs. Peter B. Mouw), Walter
Balkema, and Kate (Mrs. Den Beste). Front Row L-R Clara (Van Rooyen)
Balkema, on lap is Lucille (Mrs. Eardley Schuetz),Clayton Balkema,
Nicholas Balkema, and Raymond Balkema.
On December 9, 1886, Nicholas Balkema married Clara Van Rooyen. Three children were born in Newkirk: Katherine "Kate" (Mrs. Den Beste) was born September 27, 1887, Walter was born December 22, 1888, and Jeanette (Mrs. William Van Roekel) was born December 10, 1892. The family moved to Sioux Center in 1893 and Nick oontinued in the mercantile business. The Balkema Store was one of the largest of its kind in the area and in 1934 was extensively remodeled. It was located north of the De Ruyter Store and extended to the corner. Nick also owned a clothing store in Paullina, IA. The children born in Sioux Center were: Florence (Mrs. Peter B. Mouw) was born March 9, 1896, Raymond "Bud" was born June 18, 1900, Clayton was born October 27, 1906 and Lucille (Mrs. Eardley Schuetz) was born October 30, 1908.
Always vitally interested in the affairs of the state and nation, Nick took an active part in the development of Sioux County and Sioux Center in particular. He was a member of the town council and vice-president of the bank. For thirty-five years he served on the school board, ten as president. He was intensely interested in educational matters. All of the Balkema children graduated from high school and several attended college. Walter became a doctor and Raymond, a lawyer. From 1909-1919 Nick was a state senator. He was a charter member of the Central Reformed Church and a charter elder and taught Sunday School for many years. In 1935 he was elected the first president of the Civic Club. He continued active until his retirement in 1941, concluding 54 years of business life.
Nick was deeply interested in the building of the community hospital. One of his last public appearances occurred on March 31, 1950, when he was chosen to represent the community at the hospital ground-breaking ceremony, turning over the first sod, thus placing the hospital officially "under construction".
Music played an important role for this family. Several of the Balkema children took piano lessons and many times their father would supervise the practice sessions. He loved music. Clara enjoyed playing the piano even in later life. Her grandfather Muilenburg was very interested in both vocal and instrumental music and was the proud owner of a melodian.
His daughter, Jennie, Clara's mother, led the singing in the Newkirk church for the morning and afternoon services.
Nick passed away January 29,1954. Clara remained in her own home and was cared for by Fred and Kate Den Beste until her death on December 30, 1954. She was the last surviving charter member of Central Reformed Church. They are buried in the Sioux Center cemetery. The parents of Nick and Clara are buried in the Newkirk cemetery and the Huibert Muilenburgs are buried in Orange City.
Two of their daughters are still living: Florence (Mrs. Peter B. Mouw) of Sioux Center and Lucille (Mrs. Eardley Schuetz) of Lincoln, Nebraska. Kate (Mrs. Fred Den Beste) died February 27, 1965; Walter died February 4, 1958; Jeanette (Mrs. William Van Roekel) died February 5, 1934; Raymond died May 10, 1979 and Clayton died April 1, 1982.
Nick and Clara Balkema had nineteen grandchildren. Six are deceased.
(The former Balkema residence at 42 3rd Street Southwest is now the home of the Marvin Wierdas. Some items from the Balkema home and the store are in the local museum.)
by Esther Wiese and Gwen Van Wechel