TE GROTENHUIS, JAN WILLEM AND JANNA HENDRIEKA (KLEUVERS)
Jan Willem Te Grotenhuis born January 11, 1833 immigrated from the province of Gelderland Netherlands in 1871. There ware 37 homesteaders in this colony, this included J. W.ís sister "Naa" who later married J. J. Eppink who also came with this colony. Records show there were more members of the Te Grotenhuis family who had immigrated earlier, around 1868, a brother John Henry and a sister Sandrina Hendrieka. Since they settled in a different place with a separate colony they lost track of each other and never got together again. In these colonies several people were related to each oter, and names Jan, Willem, Johanna etc. were often repeated. Also marriages between cousins was not uncommon, which today is forbidden. To them it was very important not to lose their identity, religion, or culture in a strange land.
The community that later became Sioux Center, the majority were people from Gelderland, few came directly from the "Old Country," a large number came from Greenleafton MN, Pella, IA, Wisconsin and etc. J.W. Te Grotenhuis came from Greenleafton MN and later they settled in Sioux County, where they heard land was still available. They came in covered wagons with oxen and horses. Mr. and Mrs. A. J. Kleuvers were also with this group and their daughter Janna Hendrieka Kleuvers later married J.W. Te Grotenhuis in 1905 [?], he was 20 years older than she was. Mrs. A. J. Kleuvers was the first adult buried in the Sioux Center grave yard. Mr. A. J. Kleuvers, Janna Hendrieka's father, drowned in the Rock River in 1874, when he and a friend went to hew some trees along the banks for fuel and building purposes. They got caught in a whirlpool in the river and lost their lives.
J. W. Te Grotenhuis was a stern man, and a good business man and farmer. He was not afraid of work, and took advantage of the "land tree claims" the government had to offer. (See J. H. Den Herder Story) He accumulated a lot of land this way. The work was done with crude machinery and oxen and horses on these open prairies and creeks. Many trees were planted a mile west of south Sioux Center and a mile north. There was a 20 acre plot of tall cottonwood trees. This was a popular picnic place for church and family picnics, it was called Grotenhuis Grove. The roadside was also lined with trees, it was called "lovers lane". Couples on dates parked their horse and buggies there, for a bit of privacy from their teasing younger brothers and sisters. There ware always pranksters around also, and when you hitched your horse at the "church horse barns" you better check out your buggy seat, there could be a few eggs under the blanket.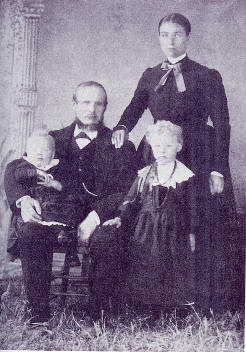 Mr. and Mrs. J. W. Te Grotenhuis, William Te
Grotenhuis,"Hattie" (Mrs. G. E. Den Herder),
picture taken in 1892.
On the southeast corner of the section, one mile west of Sioux Center, which today is the home place of Garold Den Herders, used to he the school ground of West Branch No. 2, which dated back to 1882. It was permanently closed at the end of 1958-59, it being one of the oldest schools in the vicinity. Mrs. Ed Te Veltrup was the last teacher. But before all this in 1907, Gerrit Jan son of J. W. Te Grotenhuis was killed cutting down a tree. Noticing the tree was not falling right, and not heeding the warning of others, scrambled up the tree to tie a rope on a branch, when the tree toppled and fell on him and killed him.
In 1877 a church was organized by a group of people, Mr. and Mrs. J. W. Te Grotenhuis were charter members of this church which was called the Reformed Church of West Branch and later the First Reformed Church of Sioux Center. In 1895, the First Reformed Church became the "mother" to the Carmel Reformed Church. Mr. and Mrs. Te Grotenhuis donated a five acre hilltop plot of land on which the church and parsonage were built. This plot was to be used for church purposes only.
Mrs. "Hendrieka" Te Grotenhuis was a deeply religious lady, who when she grew old, spent a lot of her time reading her Bible, and religious hooks. Rev. Seine Bolks was very dear to her. She asked nothing for herself, and John remembers her as always wearing the same black dress until her children insisted she needed a new one. She also darned many many socks. When she got old and could no longer care for herself, her three married daughters cared for her in their homes, three months at a time. She died in her sleep in 1939 in the home of her daughter Sarah.
J. W. Te Grotenhuis retired and lived to be 88 years old. He loved horses, and owned some fancy ones. This love for horses bas carried through in the generations following him. There were and still are many horse lovers both boys and girls in the families. We call it the Grotenhuis blood in them. J. W. Te Grotenhuis died in 1921 and Henrieka died in 1939 at 87 years of age. He was twenty years older than she and she lived 21 years after he died.
Grada Johanna "Annie" Te Grotenhuis (April 16, 1874-1954) married Cornelius Punt. They were Sioux Center area farmers and had two sons, Cornelius "Neal" Punt and Jan Willam "Bill" Punt.
Arend Jan "John" Te Grotenhuis (Jan 23, 1876 - 1972) married Pauline Stuurop. They were Sioux Center area farmers who had quality livestock, a milk route, and also was a butcher. Their children were: William, Ethel, Harriet, Wallace, Marvin, and Hendrene.
Gerrit Jan Te Grotenhuis (Sept. 14, 1878 - 9 April 1908) married Mary Roos, he was killed cutting down a tree. Their children ware: Alvina, Willard, Andrew, and Gerrit.
Engelina Te Grotenhuis (Dec. 16, 1881 - 1968) married Herman Peelen. They were Sioux Center farmers and had eight children: Jeanett, Jack, Bill and twin Matt, Grace, Anna Marie, Art, and Leona.
Janna Hendrika (Nov. 18, 1884 - March 13, 1885)
Janna Hendrieka "Hattie" (Dec. 28, 1886 - 1952) married G. E. Den Herder. Their children were: Alyda, Elmer, John, Gordon, Jeane, Alvin, Kenneth, and Janice. Their story is given separately.
Jan Willem "Bill" Te Grotenhuis (April 9, 1889 - 1966) married Hattie Stuurop. He loved horses, had a gas station, sold cars and had one of the first trucks. They had two children, Audrey and Stanton.
Johanna Geertruida Te Grotenhuis (June 10, 1892 - Aug. 12, 1892)
Sara Johanna Te Grotenhuis (June 27, 1894 - 1972) married John Van Roekel. They were grain and live stock farmers four miles north of Sioux Center. They had five sons: Warren, Clinton, Merle, Warren and Arlin.
by John and Daisy Den Herder and Alyda (Den Herder) De Vries