DE MOTS, GERRIT AND EVERTJE (SCHUURKAMP)
Gerrit De Mots, Sr. (1863-1938).was a nephew of at least three other area pioneers. He was born in Ermelo, Netherlands, to Hendrik De Mots and Elizabeth Doppenberg. On February 2, 1883 he married Evertje Schuurkamp (1858-1935). In the spring of 1883 he with his new bride and his brother Jan De Mots came to America. They first arrived at the home of his aunt, Matje (De Mots), Mrs. Jacob Koster, in Sioux Center who were then living in their new wooden home that was on the location where later Jerry Reisma lived about one block east of the Community Center. The brothers Jan and Gerrit De Mots had two other aunts and uncles living in Sioux Center, Gysbertje (De Mots), Mrs. Gysbert Van Beek, and Tryntje (Vander Pol), Mrs. Gysbert "Gilbert" De Mots.
Gerrit's brother Jan De Mots ended up at Edgerton Minnesota. He married Annie Vanden Bosch and later married Hattie Schut.
Gerrit stayed a short time in Sioux Center at which time he helped his uncle Jacob Koster with establishing his farm. He helped him plant the row of cottonwood trees that ran the length of main street, one stately tree survived many years and was located in the City Park.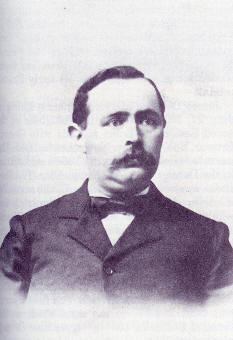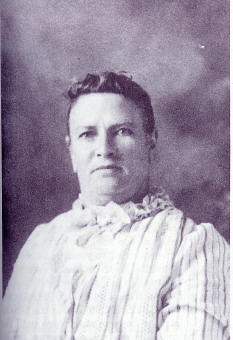 Gerrit De Mots and Evertje (Schuurkamp) De Mots
Soon after that the young married couple left for Dakota to take out the highly advertised free claims still available in South Dakota, because land was getting expensive here at $5.00 per acre. A drought the second year they homesteaded in Dakota with its poverty that followed caused the family to pack up in a mover wagon with three children; Henry, Gerrit,and John and come to farm near Sioux Center. They rented a farm from Mr. Schaap who lived about where Henry Ramaker used to live, at 9th and Main. While they lived in Sioux Center three girls were born into the family. Elizabeth (Mrs. Mark Rodenburgh), Cora (Mrs. Hubert Muilenburg) and Gertrude (Mrs. Howard Jelgerhuis).
Gerrit De Mots had an implement shop with Jim Borgman about 1902 for few years, which was located where the Chevrolet Garage later stood. He was in the implement and auto business in Hull, Iowa and later in Sheldon, Iowa, also.
In 1906 Gerrit and Evertje's maniage was dissolved and Gerrit returned to the Netherlands and married a second time to Johanna Hilgevoort on July 3, 1912. He came back to Sheldon to live and to this marriage a son, Garret De Mots, was born. This family moved to Michigan and their son Garret lived in Florida and has now retired in Pueblo, CO.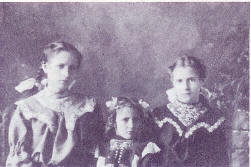 Children of Gerrit De Mots, Elizabeth, Jacoba,
and Gertrude
The children of Gerrit De Mots and Evertje Schuurkamp are as follows:
Dr. Henry De Mots born December 13, 1883 came to Sioux Center when he was six years old with his parents who had come back from a Dakota claim. He took a dental course and came to Sioux Center to open a dental office. He married Alice Vander Zee on April 3, 1906. They were the parents of the following children: Clifford De Mots (1909-1978) married Geraldine Haverhals of Sioux Center, Verna De Mots (1907) later of California, and Yvonne (Mrs. Halverson) of Spencer, Iowa.
Gerrit De Mots "Met" was born May 4, 1886 in Douglas County South Dakota and at four years of age came to Sioux Center with his parents. He taught school and went to work as a lineman for the telephone company. In 1919 he formed a partnership with Jake De Ruyter in the hardware business. He manied Elizabeth Jongewaard on August 28, 1913. They were the parents of Jane Eva (Mrs. Gary Boeyink), Ringert "Buzz" De Mots, and Arlene (Mrs. Al Brunsting - Howard Wintersen). Gerrit De Mots died June 26, 1957.
John De Mots was born October 8, 1887. He did not marry, he taught country school for several years. He died June 23, 1968.
Elizabeth De Mots was born August 3, 1892. She taught school for many years. She married Marcus "Mark" Rodenburgh and they had no children. Lizzie is still living at this writing and resides at the Nursing Wing at the local hospital. She is 98 years old.
"Coba" born Jacoba De Mots married Hubert Muilenburg, she was born May of 1894. They lived at Orange City, and were the parents of Jacob "Elwin" Muilenburg, Evelyn Muilenburg, and Dick "Bub" Muilenburg who married Midge Mouw.
Gertrude De Mots born October of 1898 married Howard Jelgerhuis on 20 June 1921. They had no children and Gertrude lives in the Nursing Wing at the local hospital at this writing.
Born to Gerrit De Mots Sr. as an offspring of his second marriage to Johanna Hilgevoort was Garret De Mots born October 8, 1914 at Sheldon, Iowa. Garret married Naomi V. Simpson at Kalamazoo, Michigan on November 23, 1938. Garret and his wife Naomi presently live at Pueblo, Colorado. The writer of this story became a correspondent with Garret De Mots as a result of common genealogical interests and distant family ties to the writers husband's ancestry.
by Wilma J. Vande Berg