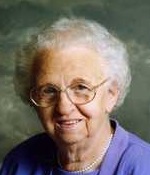 DURELLA (DELL) VAN ROEKEL, was born on July 9, 1923 in Chandler, Minnesota to Bernie and Hattie (Bruxvoort) Van Roekel. She lived with her father and brother (Melvin) at Leonard Vos's after her mother died of tuberculosis. She attended a rural school by Chandler from grade 1 through 3. After that, she attended schools in Chandler and graduated in 1940.
Durella attended two years of college in Worthington. The family moved to Worthington in 1942. She then attended North Central Bible College for two years. After coming back to Worthington, she was employed as a bookkeeper at Boote's Hatchery. From 1948 - 1956, she worked as a bookkeeper at Berger Transfer in Worthington. Durella was employed at the First National Bank for 23 years and also worked at Rushmore State Bank until she retired. They were jobs she loved.
She was involved at the Assembly of God Church for much of her life. She taught Sunday School and "Good News Club" for children, was a youth leader, and served as President and Secretary of the Women's Ministries at the church. Durella lived with her Dad for many years, keeping house for him. After diabetes took both of his legs, he lived in Fauskee's Nursing Home until his death. She moved to different apartments, then to Golden Horizons, and lastly to Crossroads Care Center.
Durella Van Roekel died on Friday, November 13, 2015 at Crossroads Care Center in Worthington, Minnesota. She is survived by two sisters, Gladys Berger, Worthington, MN; and Jeanette Thuringer, St. Peter, MN. She is also survived by many nieces, nephews, and great-nieces and great-nephews. She will be buried at Garden of Memories. Her family requests that in lieu of flowers, memorials be sent to Solid Rock Assembly Church in Worthington, MN. Visitation will be Wednesday from 5 to 8 PM at the Dingmann Funeral Home in Worthington and continue Thursday one hour prior to the service. The Memorial Service will be Thursday at 11 AM at the Dingmann Funeral Home in Worthington with Pastor Scott Peterson officiating. Burial will be in Garden of Memories Cemetery.
Source information:
Dingmann Funeral Home and Cremation Services, 1545 N McMillan St, PO Box 276, Worthington MN, 56187, 507-372-4250