ADDINK, JOHN AND JENNIE (LAMMERS)
John Addink was born on May 20, 1886 on,a farm 2¼ miles east of Sioux Center. He was the youngest child of Hendrik Willem Addink and Gertje Ketelary. He was born of Dutch ancestry and had 4 brothers and one sister. Two of his brothers, Herman and Henry ware also Sioux Center residents. Another brother, Bill; died in Sioux Center at age 24.
Jennie Lammers was born on Jan. 7, 1889 1½ miles west of Sioux Center. She also was from Dutch ancestry. Her father was Dirk Lammers and her mother's name was Wilhemina Nykamp. Until she married, Jennie lived on the same farmplace. She, along with her twin brother John, was the oldest in a family of 10. She had 5 brothers and four sisters. All of the children lived in Sioux County their entire lifetime. Ralph Lammers still lives near Sioux Center. A sister, Mrs. Louis (Johanna) Klein, resides in Sioux Center.
When John was at the young age of 5, his mother died. At age 11, he also lost his father. In order to have his immediate needs provided for, he made his home with Manus Wissink as a hired hand.
Throughout the years, prior to his marriage, he accepted a variety of jobs. One was "working a land claim" in North Dakota for Howard Jelgerhuis. In winter months, when no work was available, he made his home at the residence of Mr. and Mrs. Dirk Lammers. One of their daughters, Jennie, later became bis bride on Feb. 3, 1910.
During the next 7 years they became the proud parents of 5 daughters. Their names are: Gertrude, who married John R. DeGroot; Minnie, who married John Byl; Dena who married Albert Van Riesen; Alice, who married Peter DeGroot; and Hattie, who married William Verdoorn. All live in Sioux Center except Hattie, who resides naar Hospers.
Two years after the last daughter was born, a son Dick was born. A second son, Henry, followed 5 years later. The sons married sisters. Dick married Hilda Kiel of Orange City and Henry married Mary Kiel of Orange City. Dick lives in Sioux Center and Henry lives in Orange City. The 7 children presented John and Jennie with 25 grandchildren.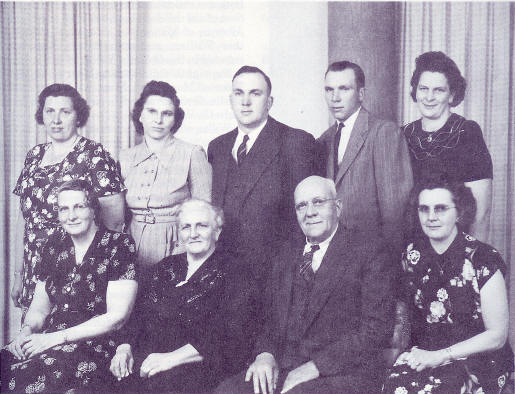 John and Jennie Addink Family. Back Row, L-R: Gert, Hattie,Dick, Henry, Alice. Front Row,
L-R: Minnie, Jennie, John, Dena
Jennie's life, prior to her marriage, was characterized by hard work in the house and in the field. She followed in her mother's footsteps. Jennie loved to tell about how her mother had been helped by Jesse James. Struggling with a broken harness tug, while plowing, she gladly accepted an offer of help from a horseback rider and his companion. Later the strangers were identified as Jesse James and his gang.
After John and Jennie ware married they spent the greater part of their life farming. They first located on a farm naar Doon. The rest of their several moves ware to farms in the vicinity of Sioux Center. Their last farm move was to a 40 acre farm 2 miles south and 2 1/4 west of Sioux Center that they had purchased.
To supplement his income, John ran a corn shelling business for farmers. Later bis son Dick learned the trade and took over. John had then become involved in commercially buying and selling all kinds of fowl, especially chickens. It also involved culling and worming them. His son Henry worked with him until he enlisted in the navy. John also provided a hog worming service for farmers.
And what did Jennie do when John was busy with his vocations? She provided for the needs of her family, of course. But as duties ware slowly on being taken over by her daughters, Jennie spent more and more of her time giving tender loving care to her chickens. By now three chicken coops dotted the premises and they housed hundreds of chickens.
One day her son, Henry, arrived in the house before his mother. He was accused by his father of shirking his duties in the hen house. His reply was that his mother had lagged behind to talk and sing to the chickens. His sisters were quick to verify this.
In January until May of each year, Jennie transformed her living room into a hatchery. The furniture was removed and the carpet rolled up. Five incubators were set up to "decorate" the room. Three hatches of 1300 chickens each, found their way to other farmers and to the coops on the yard.
On Feb. 13, 1950 things changed. Daughter Gertrude, who had continued to work for them many years of her adult life, became the bride of John R. DeGroot. The newly married couple lived and farmed with them for the next 5 years. The verbal agreement included Jennie's right to continue to feed the chickens.
In the spring of 1955 the time came for them to become "city folks". They moved to 334 Second Ave. N. E. They lived there together for 11 years. John died on Nov. 10, 1966.
Jennie continued to live in that home until 1983. At the age of 94 she agreed to live with a grandson, Kenneth Addink and bis family, in Sioux Center. She lived with them for a year. She was confined to a wheel chair due to arthritis. The last 8 months of her life were spent with another grandson, John Addink and bis family in rural Sioux Center. She died at the age of 96, mentally alert and never having spant a day in the hospital!
Both John and Jennie are buried in Memory Gardens.
Jennie was a charter member of the First Christian Reformed Church of Sioux Center. In later years when they were married they were members of Bethel Christian Reformed Church of Sioux Center.
By Mary Addink