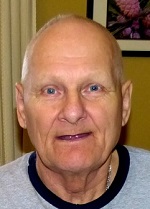 Virgil Klingenberg was born on August 16, 1951 to Lee and Viola Klingenberg near Adrian, MN. He grew up in a group home. After school, Virgil worked on the Gordon Mouw farm, and later on the Gary Hulstein farm near Leota, MN. Dorothy remembers driving a John Deere tractor and meeting Virgil driving a Farmall tractor hauling loads back and forth for the Mouws. Virgil was baptized and professed his faith at the Leota Christian Reformed Church in 1978.
On March 26, 1983 he married Dorothy Van Roekel at the Chandler Reformed Church. They made their home in Owatonna, MN where Virgil worked at Wengers Corporation. In 2012 they moved back to Chandler and lived on the Van Roekel family farm. In 2015, Virgil became a member of the Chandler Reformed Church. Virgil greeted everyone with a smile on his face, and he was always happy to share his faith in Jesus. He enjoyed crosses and always looked for them at care facilities and other places. On December 29, 2015 Virgil passed away at the Murray County Medical Center in Slayton, MN.
Virgil is survived by his wife, Dorothy; his mother, Viola Gerdes of Worthington, MN; two sisters, Linda (Dave) Bents, Abilene, TX, and Connie Veen of Sibley, IA; two brothers-in-law, Jacob (Delena) Van Roekel, of Clarkdale, AZ and Gearold (Mary) Van Roekel, of Sleepy Eye, MN; nieces and nephews, grandnieces and grandnephews and his dog, Ringo.
His father, Lee Klingenberg, preceded him in death.
Obituary by Chandler Funeral Association