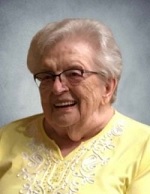 Jeanette Alberta Van Voorst
October 23, 1920 - October 19, 2020
Mrs. Jeanette Van Voorst, age 99, of Orange City, passed away on Monday, October 19, 2020, at the Prairie Ridge Care Center in Orange City. There will be a private family service on Friday, October 23, at 10:30am, at the Trinity Reformed Church in Orange City. The Rev. Harlan Van Voorst will officiate. Interment will follow the service at the West Lawn Cemetery in Orange City. Visitation without the family will be on Thursday, from 5:00pm to 7:00pm, at the Oolman Funeral Home in Orange City.
Jeanette Alberta was born on October 23, 1920 in Hospers, the daughter of Neal J. and Wilhelmina (Cleveringa) Rozeboom. She was raised in the Hospers and Carmel areas, and attended country school. She graduated from the Sioux Center High School and then attended Northwestern College in Orange City.
On August 12, 1941, she was united in marriage to Harry Van Voorst in Carmel. They first made their home in Michigan before returning to Iowa where they lived in Rock Valley and spent 17 years farming near Sioux Center. They raised their eight children on the farm until settling in Orange City. Harry passed away on May 21, 1970, at the Mayo Clinic in Rochester, Minnesota, after more than 28 years of marriage. In addition to being a homemaker, Jeanette had training to serve on the ambulance team and worked as a surgical technician at the Orange City Municipal Hospital for 37 years. Following her retirement, she continued to volunteer in the hospitalís same day surgery clinic.
Mrs. Van Voorst was a member of the Trinity Reformed Church in Orange City, where she attended Bible studies. She enjoyed, crocheting, canning, and going to visit her children, grandchildren, and great-grandchildren. Her greatest desire was that all of her family would follow the Lord.
Survivors include her eight children and their spouses, Harlan and Eunice Van Voorst, of Packwood; Janice and Jim Miller, of Kalona; Dr. Conrad and Jeanne Van Voorst, of Rochester, New York; Mike and Myra Van Voorst, of Annandale, Minnesota; Randy and Mona Van Voorst, of Sioux Center; Jerry and Sheila Van Voorst, of Ankeny; Diane and Ron Koele, and Wes and Pam Van Voorst, all of Orange City; 22 grandchildren, Dr. Tami (Steve) Gudenkauf; Kari (Jeremy) Statler; Kelly Nugteren; Michael (Myndi) Van Voorst; Jamey Miller; Cory Van Voorst; Brad (Lindsay) Van Voorst; Jill (Peter) Standafer; Andy (Evie Ann) Van Voorst; Rick (Jessica) Van Voorst; Ryan (Cinda) Van Voorst; Cresta (David) Zwart; Jared (Dani) Van Voorst; Emily (Kevin) Davis; Andrea (Matthew) Wrather; Nicole (Jerome) Sechser; Natalie (B.J.) Rounds; Jenna (Josh) Van Es; Whitney Koele; Kristin (Mark) Haan; Katie (Kyle) Wenell; Megan (Logan) Huisman; after February of 2021, she will have 48 great-grandchildren; a sister, Joyce De Groot; a brother, Willis (Karen) Rozeboom; and a brother-in-law, George (Kris) Vonk.
In addition to her parents and husband, she was preceded in death by a sister, Allene (Elmer) Vanít Hul; a brother-in-law, Bill De Groot; Harryís siblings, Jake (Jennie) Van Voorst; John (Greta) Van Voorst; Henry (Gert) Van Voorst; Gert (Merrit) Hoogendoorn; Sam (Eva) Van Voorst; Bill (Alice) Van Voorst; Marie (Henry) Vander Stouwe; Maurice (Lucy) Van Voorst; Henrietta Vonk; Jim (Greta) Van Voorst; and Jeanette (Bill) Vanden Top.
In lieu of flowers, memorials may be directed to the Orange City Area Health System or the Trinity Reformed Church building fund.
[Source: Oolman Funeral Home in Orange City, Iowa]