Cornelius Van Roekel, 68, 301 Elm St., died Sept. 8 at Iowa Methodist Hospital in Des Moines.
He was born July 24, 1906 near Pella, the son of Aart and Nellie Visser Van Roekel.
He attended grade and high school in Pella and joined his father in the trucking business.
He married Mabel Toom on Feb. 15, 1928 at Pella. He continued to work with his father and later bought the business, known as Pella Supply, from his father. He sold the implement business in 1956 and they moved to Waverly while he traveled northeastern Iowa with the Des Moines Iron Co. In 1968 they returned to Pella where he continued to live following his retirement.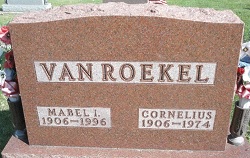 He is preceded in death by his parents; brothers Raymond and Steve; and a sister Matilda.
During his active years, he served on the city council while Tunis Klein was mayor; was a past president of the Pella Chamber of Commerce and a former member of the Kiwanis Club.
He was a member of the First Reformed Church at Pella.
Funeral services were conducted Sept. 10 at the First Reformed Church with Rev. Frank J. Shearer officiating and Rev. Richard. A. De Jong assisting.
Interment was in Oakwood Cemetery and arrangements were made by the Van Dyk-Duven Funeral Home of Pella.
-Obituary from The Pella Chronicle
(9/25/1974)
---
Mabel I. Van Roekel, 89, of Pella, passed away March 22,1996, in the Sheltered Care Unit of the Pella Community Hospital. Funeral services were held Tuesday, March 26th at the First Reformed Church in Pella with Rev. David J. Klanderman and Rev. Kenneth A Dykstra, officiating. Interment was in Oakwood Cemetery in Pella.
Mabel Irene Toom, daughter of John and Tillie De Wit Toom, was born on September 15, 1906 near Pella, lA. She married Cornelius Van Roekel on February 15, 1928 and the couple had two children.
They continued to live in Pella until 1956 and moved to Waverly, lA where they lived until 1968, at which time they returned to live in Pella. After retirement they spent many years in their winter home in Florida.
Travel was always a great enjoyment of her life. For the past five years, Mabel had been cared for in Pella.
Preceding in her death were her husband, Cornelius; her parents; and her brother, Marion Toom.
A memorial has been designated to the Hospice of Pella.
-Obituary from The Pella Chronicle
(4/4/1996)