JOHN GERRIT VAN ROEKEL

Monroe/Pella
John's last wish that he slip away quietly from this life was granted on Wednesday June 24, 2009. John Gerrit Van Roekel, 88 was born on August 9, 1920, and died at Fountain West Health Care Center in West Des Moines. Funeral services will be held at 2 p.m. on Friday, June 26, 2009 at the Monroe Presbyterian Church, where he was a member for more than 60 years. Visitation will be held prior to services from l to 2 p.m. at the church. In lieu of flowers, memorials may be given to the Monroe Presbyterian Church, the Monroe Gateway Recreation Center, Or the Vermeer Wirtdmill in Pella. Online condolences may be made to www.coburnfuneralhomes.com.
John was the youngest of nine children born to Aart Van Roekel and Nellie Visser Van Roekel, who immigrated trom the Netherlands as children, along with their families. John's Dutch heritage included being the grandson of Teuntje Visser, who first imported tulips to Pella in l923.
John graduated from Pella High School and attended Central College, where he met Geraldine Goodell. John and Gerry were married in New York City in 1943, after John had enlisted in the Army Air Corps. He proudly served his country in the United States, England, France, and Germany during WWII, where he worked in communications at airfields in Europe. John was injured during the war, and he received tbe Purple Heart in 1944.
After the war ended, John worked at his family's business in Pella; then he and Gerry moved to Monroe, where he managed tbe Western Auto Store for about five years. John began bis career with the Maytag Company in Newton in 1952, retiring trom the rubber lab in 1982. He was a loyal employee who received promotions and recognition, and he worked in the company store for many years after retirement.
John and Gerry raised four children in Monroe. They were loving parents who sacrificed and worked hard to encourage each child. They were especially proud that each had the opportunity to graduate from college and obtain additional education.
After retirement, John and Gerry traveled, participated in Air Stream rallies, and spent winters in Harlingen, Texas, where they had many friends. For over 20 years, they tutored elementary school children in the Harlingen schools, assisting them in reading and learning English.
After Gerry passed away in 1997, John remained in Monroe, where he frequently could be found at the Gateway Recreation Center, playing golf and drinking coffee. John was active in his church and was a skilled woodworker, known for bis clocks, toys, wooden tulips, and jewelry. He moved to Vriendschap Village in Pella in 2006, and then moved to West Des Moines in 2008.
John's wisdom, sense of humor, dedication to family and friends, kindness, and forthrightness will be missed by bis friends and family.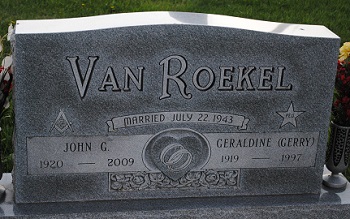 John leaves behind his children, Artis Reis and her husband Mark Smith of Des Moines; Martie Van Roekel and her husband Greg Babler of Minneapolis; John W. (Bill) Van Roekel and his wife Jan of Madrid; and Ruth Bowman and her husband Dave of Minneapolis. John's grandchildren are Emily Abbas (Cory); Katie Van Roekel; John Van Roekel; Betsy Van Roekel; Anne Van Roekel; Lynn Camp (Brandon); and Lesley Dionne (Billy). John leaves behind two great-grandsons. John also is survived by one sister; Dorothy Slickers of Arizona; and two sisters-in-law, Norma Gaass of Pella, and Helen Van Roekel of Pleasant Hill. He has many nieces and nephews.
The family would like to acknowledge tbe assistance and care given to John over the past few years by Dr. Phil Clevenger of Newton, Dr. Kurt Vander Ploeg of Pella, and Dr. Robert Conner of Des Moines. Many thanks go out to the incredible staff of Fountain West Health Care Center in West Des Moines and IA Hospice.