Nellie Alida TerLouw was born on November 23, 1907, near Sully, Iowa.
In 1918 she and her family moved southeast of Pella, Iowa where she graduated from the Pleasant View Country School.
On March 29, 1933, she was united in marriage with Richard Van Roekel, a son of Gerrit and Minnie Van Heukelom Van Roekel. They were united in marriage at the farm home of her parents, Nickolas and Ida Van Houweling Ter Louw.
Following their marriage they began farming her parentsí farm southeast of Pella. They then purchased their own farm east of Pella in the late 1940ís where they raised their two children: Ronald Lee and Linda Joy. They farmed for 40 years and in 1970 moved into Pella.
Nellie and Richard enjoyed traveling and were privileged to make several significant trips on tours. They served as councilors at the American Missionary Fellowship Youth Camp, also known as the Chariton Bible Camp, for several years and then became active with The Gideons.
In March of 2001, Nellie and Richard became residents at the Griffin Nursing Center in Knoxville, Iowa where they were cared for until becoming residents in the Long Term Care Unit at the Pella Regional Center in Pella in January of 2002. Richard passed away there on June 16, 2004, at the age of 96 years. They were privileged to share over 71 years of married life together.
Nellie spent the remaining years of her long, active life in the Long Term Care Unit reading, doing word search, and participating in crafts and other activities. She was most insistent on being outdoors in the mornings and evenings, when at all possible.
Her long life ended peacefully there on Thursday morning, November 13, 2008, 10 days prior to her 101st birthday.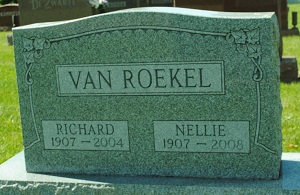 Nellie is survived by her two children, 4 grandchildren and 10 great-grandchildren: Ronald Van Roekel and his wife, Mary Lou (Van Wyk) of Otley, Iowa; Linda Witzenburg of Pella, Iowa. Nellie was the last surviving member of her original family and leaves just one sister-in-law, Esther (Henry) Roorda of Pella.
She was preceded in death by her husband, Richard Van Roekel; her parents, Nickolas and Ida TerLouw; her parents-in-law, Gerrit and Minnie Van Roekel; her brother, Gysbert TerLouw and his wife, Winnie; two sisters: Stella and her husband, Harry Boot, Jeanette and her husband, Marion De Bruin; and the following sisters-in-law and brothers-in-law: Louis and Chistine Van Roekel, Stevanna (Van Roekel) and Dave Roorda, Henry A. and Wilma Van Roekel, and Tena (Van Roekel) and Henry C. Roorda.
Nellie had been active with the Pella Community Hospital Auxiliary and the Third Reformed Church of Pella and was a charter member of the Heartland Reformed Church at Pella, Iowa.