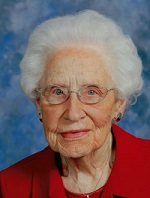 Esther Wilma Overbergen Roorda was born near Leighton, Iowa, in Mahaska County, on January 15, 1921, to Lambertus and Martha (De Bruin) Overbergen. Her older brother, Raymond, welcomed her into their busy farm home. Esther was educated in the Black Oak Center School, where she graduated from the eighth grade in 1934.
As a young girl, Esther helped her parents on their farm and worked for many neighbors and friends as a housekeeper. She especially enjoyed helping out when new babies were born, and she found ample opportunities to do this, endearing herself to many people as she cared for their children.
As a young woman, Esther was engaged to be married to Lawrence Van Zee. When Lawrence was tragically killed while on active duty during World War II, Esther bravely went on with her life, filling the void left by Lawrence's death by investing in and loving and serving others.
Esther made profession of her faith at an early age at the Third Reformed Church of Pella. She served there for many years as a Sunday School teacher, a youth leader, and a choir member. She also served as a leader of Christian Endeavor on the state level and worked many summers as a children's Bible teacher for the American Sunday School Union.
Esther became an excellent cook and baker. She blessed many people with her hospitality and wonderful homemade bread, cookies, candy, and other treats.
Following the deaths of her parents, Esther became employed at a local department store in Pella. Esther loved her work there and, once again, endeared herself to those she served.
On October 21, 1977, Esther married Henry C. Roorda. She moved from her life-long farm home to 415 Maple Street in Pella. Esther and Henry shared a wonderful life, working together, fishing together, and traveling together. They continued to bless all who knew them with their kindness and love. Esther and Henry were faithful members of the Trinity Reformed Church of Pella.
Esther passed away peacefully on July 17, 2011, at Jefferson Place in Pella, at the age of 90 years. She was preceded in death by her father in 1957, her mother in 1970, her brother in 1941, her fiancÚ in 1943, her stepgrandson in 1996, and her husband in 2007.
Those who survive Esther and cherish her memory are the following: her stepson, Ervin (Andrea) Roorda of Mill Creek, Washington; her stepdaughter, Mary (Rich) Glendening of Pella; seven stepgrandchildren; several who claim Esther as their "other mother and grandmother" including the Al Van Roekel family; and a host of relatives and friends.
Esther will be remembered as a kind and loving woman. She made everyone feel special, never knew a stranger, and showed us all what Jesus is like by putting Him first and serving others selflessly in His name.
She is survived by her children- Louis G. Van Roekel. Richard Van Roekel and Mrs. Dave (Stevanna) Roorda, all from Pella, Henry A Van Roekel, Leighton, and Mrs Henry (Tena) Roorda, Pella, 13 grandchildren; 26 great-grandchildren; three sisters -- Mrs Abram (Johanna) Bogaards and Mrs. A.T. (Jennie) Ver Meer, both from Pella; and Mrs. Cornie (Caroline) De Goey, Newton.
She is preceded in death by her husbands; three brothers - Gerrit, Teunis and Albert Van Heukelom; and two sisters - Mrs. Peter (Henrietta) Olivier and Mrs James (Bertha) Nunnikhoven.
She was a member of Trinity Reformed Church in Pella at the time of her death.
Funeral services were Monday at the Trinity Reformed Church with Rev. Wayne Hall officiating. Casket Bearers were: Louis G Van Roekel, Richard Van Roekel, Henry A. Van Roekel, Dave Roorda and Henry Roorda. Interment was in Black Oak Cemetery in Mahaska County and arrangements were made by the Garden Chapel Funeral Home.
(From The Pella Chronicle, Wednesday , August 1st, 1973, Page 7)