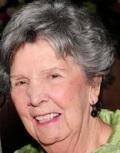 Johanna Antionette (Van Dyk)was a daughter of Geurt Reindert and Wihelmina(Minnie) Vink Van Dyk. She was born on February 9, 1928, at her parent's home near Otley, Iowa. Johanna attended the Bunker Hill Country Grade School and graduated from the public high school in Pella, Iowa with the Class of 1946. As a young girl she worked summers at the Rolscreen Company and as a waitress at the Coffee Shop and Central Park Cafe in Pella.
Johanna and Henry Roozeboom, a son of Gerrit and Marie Franje Roozeboom, were united in marriage on January 30, 1959 in Pella. Johanna's children, David and Kristy, joined Henry's children: Dennis, Marjorie, Marvin, Martha Faye, Gary, Beverly, Arlene and Patricia. The marriage was then blessed with the birth of Mindy.
This new chapter provided Johanna and Henry many years of love and special memories they were privileged to share together as a family. Johanna waitressed at the West End Cafe in Pella and then worked for serveral years at the Pella Canning Factory in a clerical role.
Johanna spent the next 20 years caring for her grandchildren. She loved to share that she had 30 grandchildren and 43 great-grandchildren. She enjoyed sending them a dollar in a card with a special note to celebrate each of their birthdays.
Johanna enjoyed many special memories with some dear friends including weekly coffeetimes, invites to Sunday dinners and playing cards. She had fond memories of times spent with her neighbor and a special friend in Des Moines, Iowa. She also enjoyed playing dominos, reading and over the years had a close love for her two dachshunds, Daisy and Mia.
On Sunday morning, May 15, 2011, she passed away at the Pella Regional Health Center at the age of 83 years. Johanna, wife of the late Henry G. Roozeboom, is survived by her blended family: David Malin of Carroll, IA, Kristy Oppenhuizen of Pella, Mindy McCombs of Nixa, MO, Dennis Roozeboom, Marge Steenhoek, Marvin Roozeboom, Martha Faye Verschuure, Beverly Wisse, Arlene Bogaards and Patricia De Nooy all of Pella, Gary Goozeboom of Knoxville, IA.
Funeral Services will be held Thursday, May 19, 2011 at 10:30 am at Covenant Reformed Church, Pella, Iowa. Interment will follow in the Graceland Cemetery at Pella. Visitation will begin Wednesday afternoon at Van Dyk-Duven Funeral Home where the family will be present Wednesday from 6-7:30 pm. For those desiring, the family requests that memorials be given for Hospice of Pella or the Covenant Reformed Church in Pella, Iowa.
---
© Gijs van Roekel, Maarn 2022 - Ga naar
begin