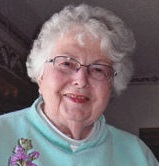 Bertha Van Zanten, the first child of William and Gertrude Van Zanten, was born on December 30, 1928, near Hawarden, Iowa. She enjoyed growing up on the family farm with her sister, Jo, and her brothers, Bill and Gerald. She recalled her father making their own ropes and repairing their shoes in the evenings, when he wasnít reading books. She and Jo would each receive a penny for cleaning several dozen eggs, but if one broke, there went their penny. Another weekly chore for the girls was cleaning the chimneys of the kerosene lamps. Bertha received her early education at a Sioux County country school south of Rock Valley.
When she was in seventh grade, the family moved to a farm north of town, where a bus picked up the children and took them to Rock Valley Christian School, from which Bertha graduated as an eighth grader. She vividly remembered hearing the radio broadcast about the Japanese attack on Pearl Harbor on Sunday, December 7, 1941, plunging America into World War II. Like many other teenaged girls, she played her part in the war effort by farming. She assisted her father and others with field work such as plowing.
When she was 17, Bertha publicly professed her faith in Jesus Christ at First Christian Reformed Church in Rock Valley. She moved to Denver, where she assisted with nursing care for tuberculosis victims at Bethesda Sanatorium. After about a year, she returned to northwest Iowa to care for a relative. She then lived in Sioux Falls and worked at the Sioux Valley Hospital during the polio epidemic of 1947-48, when South Dakota experienced the highest per capita rate of polio cases in the nation. Wards were overcrowded and beds were placed in hallways. The hospitalís school for the handicapped was converted to patient rooms. Bertha worked long hours, caring with strength and compassion for regular patients and the many polio victims. The paralyzed in iron lungs ranged from children through adults, and she was particularly touched by a young mother and her baby.
While attending church in Rock Valley one Sunday, she met Gilbert Roozeboom from the Pella area. He was working his way to California, but he never got any farther west. His first impression of Bertha was that she was "kind and beautiful". During their short engagement, Bertha sewed her satin wedding dress with 29 covered buttons. The two were married on February 16, 1949, at First CRC in Rock Valley. They set up housekeeping near Pella, Iowa, where they farmed, first for others and then for themselves, on various places east of town. They initially joined Second Christian Reformed Church in Pella, and later became charter members of Calvary Christian Reformed Church.
God blessed Gilbert and Bertha with six children: Keith Leon, Beverly Kay, Glenda Faye, Joan Beth, Kevin Lee, and Kraig Lyle. A foster daughter, Betty Ann Hess, joined the family later. With the Lordís help, Bertha raised her family as a humble Proverbs 31 woman. Her focus on Christ fueled her service for others. She sewed clothes for her family, including several dresses and other garments for attendants in her childrenís weddings. She enjoyed gardening, raising and preserving vegetables and fruits, but grew mostly flowers in later years. She liked to read, a trait she inherited from her father, although she shared her motherís easy-going nature. She continued her motherís tradition of signing letters with, "Love and Prayer." Her warm smile and gentle spirit were uniquely her own.
At Calvary Church, she attended a variety of Bible studies and helped with Friendship Bible Study. She served many years on the Volunteer Corps for Christian Opportunity Center. She cleaned houses, was employed in the factory at Pella Corp, and worked 18 years at Fair Haven. She prayed daily for her children, grandchildren, and great-grandchildren. Bertha loved God and her family and her garden.
After many years on the family farm four miles east of Pella, Bertha and Gilbert moved to a house in town. In October of 2015, they moved to Vriendschap Village. The Lord took Bertha to her eternal home on April 10, 2017.
Those she leaves behind to cherish her memory include her husband of 68 years, Gilbert, as well as her children and their families:
Keith and Kate Roozeboom of Pella
Russ and Amanda Roozeboom of Grand Rapids, Michigan
Doug and Heather Roozeboom of Palos Heights, Illinois
Brayden
Justin and Jordan Roozeboom of Broomfield, Colorado
Harper
Schuyler and Corenna Roozeboom of Chicago, Illinois
Beverly and Allen Van Haaften of Pella, Iowa
Spencer and Kate Van Haaften of Des Moines, Iowa
Brynley and Camilla
Kelly and Kevin Jansma of Ankeny, Iowa
Trey, Anderson, and Henry
Miranda Bruxvoort of Des Moines, Iowa
Wyatt
Glenda and David Mathes of Pella, Iowa
Seth and Sarah Mathes of Cedar Rapids, Iowa
Gabe, Logan, and Wes
Kirk and Andrea Mathes of Pella, Iowa
Winston
Ariel and Nick Sponsler of Pella, Iowa
Layton, Barrett, and Theo
Bethany and Patrick Stanley of Greenbelt, Maryland
Lucy
Kevin and Alicia Roozeboom of Pella, Iowa
Joshua and Leah Roozeboom of Harrisburg, South Dakota
Abigail, Ashton, Cadence, and Caleb
Joe and Susan Roozeboom of Long Grove, Iowa
Cole and Sadie
Cody and Sarah Roozeboom of Pella, Iowa
Adelaide

Kraig and Norma Roozeboom of Manhattan, Kansas
Andrew and Jennifer Roozeboom, Manhattan, Kansas
Hendrik
Rachel and Chad Stelk, Manhattan, Kansas
Neyland and Colton
Jonathan Roozeboom of Dallas, Texas

Betty and Noel Kerr of Pleasantville, Iowa Trenton Emal and fiancťe Sarah of Pleasantville, Iowa
Also grieving Berthaís loss are her siblings, Jo (Duane, deceased) Vander Schaaf of Rock Valley, Iowa, Bill & Margene Van Zanten of Orange City, Iowa, and Gerald & Jan Van Zanten of Idyllwild, California; her in-laws, Gerrit & Sis (Matilda) Roozeboom of Pella, Iowa, and Pat Roozeboom of Knoxville, Iowa; her aunt Martha Goslinga of Sioux Center, Iowa; as well as many nieces, nephews, cousins, and their families. Bertha was preceded in death by her parents, Bill & Gertie Van Zanten, and her daughter, Joan, who went home to Jesus on January 12 of this year.
[Garden Chapel Funeral Home web site]