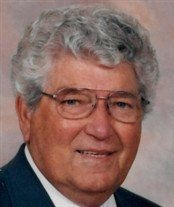 Arthur John Beyer was born on September 17, 1923. He was the youngest of seven children that were born to Arie and Marie (Van Zee) Beyer on the family farm on the Marion/Jasper County line near Monroe, Iowa. Being the youngest sibling he acquired the name "Bobby" and throughout his life he was known as 'Bob'. Bob received his grade school education at the Valley View Country School and he was a member of the first graduating class from Pella Christian High School at Pella, Iowa in 1941.
While skating at a skating rink in Pella Bob asked Elma May Bloodsworth to take her home and from there it was a relationship of over 71 years. On November 30, 1948, they were united in marriage at the Second Reformed Church in Pella and to this union two children were born: Vicky Lynn and Vance Leon. Bob farmed the family farm where he and Elma continued to live for 45 years. In 1994 they moved into Pella where they settled into the little brick cottage at the Historical Village. Bob enjoyed playing and demonstrating "Goliath" the giant player organ, as well as hosting guests at the Windmill. He loved Tulip Time along with fishing and reading. Bob and Elma spent 20 years at the 'historical museum' as the grandchildren called it. In April 2019, they became residents at The Cottages where they enjoyed playing cards and participating in many activities. On Tuesday, December 3, 2019, he passed away at the Hospice of Pella Comfort House at the age of 96 years. Those who will cherish his memory are his wife, Elma; their two children and their families.
Bob was preceded in death by his son-in-law, James Kessler; a great-granddaughter, Shayleigh Boot; his parents, Arie and Marie Beyer; and all his sisters and brothers and their spouses: Elizabeth and Herman Tuinstra, Bertha and William Van Zee, Evelyn and William Rouw, Alta Marie and Arthur De Raad, Henry and Henrietta Beyer, Gerrit and Bertha Beyer; along with his parents-in-law, Thomas and Corlena (Verwers) Bloodsworth; and brothers-in-law and sister-in-law, Clarence Bloodsworth, Virgil and Maxine Bloodsworth.
Bob was baptized at the Otley Christian Reformed Church in Otley, Iowa where he made profession of his faith. At the time of his death he was a member of the Calvary Christian Reformed Church in Pella, Iowa. Bob was the last surviving member of his original family. He will be remembered as a believer, a devoted husband, a nurturing father, loving grandfather and super great-grandfather.
We loved you, Elma, Vicky, Vance & Dee and family.
Funeral Services will be held on Saturday, December 7, 2019 at 10:30 am, Calvary Christian Reformed Church , Pella, Iowa. Interment will be made in Oakwood Cemetery, Pella, Iowa. Visitation will begin Friday after 2:00 pm with family present from 5:00 to 7:00 pm at Calvary Christian Reformed Church. Memorial contributions are suggested for Hospice of Pella Comfort House or Calvary Christian Reformed Church video ministry.
[Van Dyk - Duven Funeral Home web site]