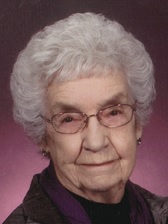 Rock Valley, Iowa: Nellie Van Der Vliet, 93, of Rock Valley, Iowa died Sunday, June 14, 2015 at the Hegg Memorial Health Center in Rock Valley. Memorial service will be held at 10:30 a.m., Saturday, June 20, 2015 at the Carmel Reformed Church in Carmel, Iowa with Rev. Aaron Baart officiating. Burial will be held prior to the service at Carmel Reformed Church Cemetery. Visitation, with the family present, will be from 5:00-7:00 p.m., Friday, June 19, 2015 at Porter Funeral Home in Rock Valley. Condolences for the family may be left online at www.porterfuneralhomes.com.
Nellie was born December 17, 1921 on a farm near Carmel, Iowa, the daughter of William and Cornelia "Kay" (Hulshof) Feekes. Having grown up on a farm, Nellie often talked about picking corn by hand in the fall rather than attending school. She loved school and continued that passion for learning the rest of her life.
On February 13, 1947, Nellie was united in marriage to Andrew Van Der Vliet at Carmel. Together, they farmed west of Carmel. After Andrew died on December 3, 1987, she moved to Rock Valley in July 1988 and later made her home at Four Seasons in Rock Valley in 2001. Nellie will forever be known for her servantís heart. She loved the Lord and shared that often with her children, grandchildren, and great-grandchildren, whom she loved spending time with. She was an active member at Carmel Reformed Church where she served as a Sunday School teacher and a member of Ladies Aid. Nellie was heavily involved with baking cookies at the Senior Center, Foster Grandparent Program, and Friendship Bible Study. She also volunteered at Whispering Heights and distributed library books at Four Seasons.
Nellie is survived by her children, Glenn (Paula) Van Der Vliet of Sheldon, Iowa, Arlis (Stan) De Weerd of Rock Valley, Iowa, and Brian (Jana) Van Der Vliet of Sioux Center, Iowa; 9 grandchildren; 27 great-grandchildren; sisters, Edna Van Abbema of Inwood, Iowa and Mina Mouw of Sioux Center; and brother-in-law, Pete Moerman of Rock Valley.
She was preceded in death by her parents; husband, Andrew; son, Arlin; brothers, John and Ted Feekes; sister, Catherine Moerman; and great-grandchildren, Evan and Sophia.
Porter Funeral Home