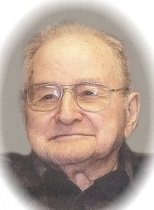 George W. Wheelhouse was born March 1, 1922 to Albert and Hilka (Schofflemann) Wheelhouse at DeSmet, South Dakota. In 1934 he moved with his parents to Lennox, South Dakota and as a young man worked as a hired hand around the Lennox and Colton areas.
On February 5, 1945 he married Neva Burgers of Harrisburg, South Dakota. They farmed in the Lennox and Canton area and in 1952 they moved to Beaver Creek, Minnesota. In 1958 they moved to a farm west of Estelline where he retired in 2011. He died on Thursday, August 14, 2014 at Prairie Lakes Hospital in Watertown at the age of 92 years.
He was a member of the Reformed Church for many years. George enjoyed farming and working with the soil and livestock his whole life. He also enjoyed helping neighbors when he could. His hobbies were fishing, especially ice fishing and he was known for his great gardens and being handy at fixing things like machinery.
George was preceded in death by his parents; six sisters Alice Larson, Minnie Clements, Ann Bramstedt, Jenny Wheelhouse, Susan Wheelhouse and Harriet Hekisen; five brothers, Harm, Sander, Albert, John and Hillrick; a son Gordon in 1978; and a grandson Doyle Laue in 1994.
His funeral service will be 10:00 AM, Tuesday, August 19, 2014 at American Lutheran Church in Castlewood. Visitation will be Monday from 5-7PM at Geise Funeral Home in Estelline. There will be a second service at 2:30 PM Tuesday at George Boom Funeral Home in Sioux Falls with visitation one hour preceding the service. Burial will be in Hills of Rest Memorial Park in Sioux Falls.