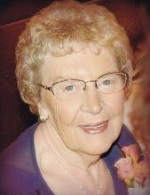 Lucille Miedema, age 87, of Hospers, passed away October 4, 2019, at Fellowship Village in Inwood, Iowa.
Lucille Gertrude was born on July 9, 1932, in Colton, South Dakota, the daughter of Wiebren "Weep" and Adrianna "Alice" (Burgers) Visser. She was raised in Colton, where she graduated from high school. As a young woman, she moved to Le Mars, where she was employed at the Cap Factory, which later became K-Products.
On December 28, 1956, she married Edward Andrew Miedema in Colton. They briefly made their home in Grand Rapids, Michigan, until returning to Northwest Iowa in 1958. They lived in Sheldon for a few years but spent the majority of their married life in Hospers, where Lucille was a homemaker and helped with the bookkeeping for their trucking business. As "Ed's" health failed, she became his devoted caretaker until he passed away on April 18, 2006, in Rock Valley, after more than 49 years of marriage.
In 2014, "Lucy" became a resident of Fieldcrest Assisted Living in Sheldon. In 2016, she moved to the Fellowship Village in Inwood.
She was a long-time member of the First Christian Reformed Church, where she participated in the Golden Hour Circle and the ladies' aide. In earlier years, she volunteered at the Hospers Christian School.
Lucy enjoyed having coffee with her friends where they were "not gossiping, they were just concerned". She also liked collecting antique glassware, refinishing antique furniture, and baking, and was known for making "the best" banana bread. She loved to spend time with her family, and for many years hosted Sunday dinner for her children and grandchildren.
Survivors include her five children and their spouses, Sheryl and John Slegers, of Alton, Iowa; Larry and Karen Miedema, of Sioux Center, Iowa; Edward Jay and Marnee Miedema, of Hospers, Iowa; Vicki and Tim Lammers, of Boyden, Iowa; and Tami and Jason Johnson, of Inwood, Iowa; seventeen grandchildren, Sarah Slegers, Joseph (Ashley) Slegers, James Slegers, Anna (Nate) Vruwink, Stephanie (Kyle) Den Herder, Nathan (Becky) Miedema, David Miedema, Mark Miedema, Zachary (Madison) Miedema, Tanner Miedema, Justin (Katie) Lammers, Mariah (Casey) Schilling, Philip Lammers, Jacob (fiancé, Karissa De Jong) Johnson, Jessica Johnson, Jackson Johnson, and Jenner Johnson; six great-grandchildren, Taya, Jayden, Bennett, Alex, Saylor, and Tucker; two sisters, Bernice Wrage, of Dell Rapids, South Dakota; and Ethel (Gerald) Vander Vliet, of Colton, South Dakota; two brothers-in-law, Andrew (Joan) Miedema, of Orange City, Iowa; and Nelvin (Sharol) Miedema, of Sheldon, Iowa; and two sisters-in-law, Sharlene Miedema, of Edgerton, Minnesota; and Mary Miedema, of Hull, Iowa.
In addition to her parents and husband, she was preceded in death by eight brothers and sisters, Nellie (Archie) Waswick, Henrietta (John) Roetman, Winnie Visser, Anton (Shirley) Visser, Walt (Marie) Visser, Wilhelmina (Hjalmer) Wickre, Audrey (Joe) Wold, Arlene (Charles) Hardy; a sister-in-law, Berdena (Kenneth) Roos; and two brothers-in-law, Henry Miedema, and Robert Miedema.
Memorial Service: October 9, 2019 - First Christian Reformed Church - Hospers, Iowa
Officiant:The Rev. Duane Tinklenberg Interment: Hospers Cemetery - Hospers, Iowa Arrangements: Oolman Funeral Home - Orange City, Sioux County, Iowa
Source: Oolman Funeral Home