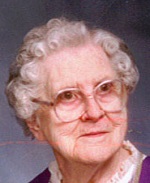 Rachel Ryken was born February 14, 1908, to Gerrit and Nellie De Jong Ryken at the family home in the Lower Grove neighborhood near Peoria, Iowa. Rachel was the eleventh of fourteen children born into the family. She passed away at the Pella Regional Health Center on Thursday, October 15, 2009, at the age of 101.
Rachel received her education at the Peoria Christian Schools. She made profession of faith at the Peoria Christian Reformed Church at a young age. Rachel did housework for various people prior to her employment at Pella Rolscreen Company in 1940, retiring in 1971.
She was a current member of the Second Christian Reformed Church and was also a member of the Golden Hour Circle. Rachel enjoyed reading, puzzle books, puzzles, games, listening to church services, visiting family and friends, eating out with the girls, and bus trips.
Fair Haven East in Pella was her home since 1987. She loved the people and acquired many friends throughout the many years she lived there.
Those left to cherish her memory are: her sister-in-law, Tobie Ryken; her many nieces and nephews: and her special niece and nephew, Cornie and Elner Spoelstra.
Rachel was preceded in death by her parents and her brothers and sisters: Nellie Ryken, Jennie Ryken, Josie Brummel, Gysbert Ryken, Emma Nieuwsma, John Ryken, Bertha Stouwie, George Ryken, Frank Ryken, Martin Ryken, Marie Blom, Dick Ryken, and Nellie Uitermarkt.
Garden Chapel Funeral Home