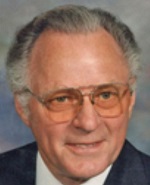 Gerrit "Gary" Van Laar, age 91, passed away on Wednesday, November 25, 2020 at Avantara Care Center in Redfield, SD. Funeral services will be held at 10:00 AM on Monday, November 30, 2020 at George Boom Funeral Home & On-Site Crematory in Sioux Falls, SD. His family will be present to greet friends for visitation on Sunday at the funeral home from 5:00 PM to 7:00 PM. His service will be available to view online on Monday; please check back to this obituary for a link to this event. Please direct memorials to the Alzheimer's Association.
Gerrit Marvin Van Laar was born on February 12, 1929 in Volga, South Dakota to Marinus and Margaret (Lengkeek) Van Laar. As a child his family made their home in Sioux Falls, SD and it was here that Gary was raised and received his education graduating from Washington High School. Following high school, Gary began his career as a machinist at John Morrell and Company. He retired from John Morrell and Company in 1996 following 49 years and two months of faithful service.
Gary was united in marriage Lorraine "Lori" Baartman DeJong on December 23, 1995 at First Christian Reformed Church in Sioux Falls, SD, where both Gary and Lori were longtime members. Gary enjoyed taking long walks, riding his motorcycle, skiing, shooting pool, classic cars, and spending winters in Arizona. Above all he loved spending time with Lori and family.
Grateful for having shared his life are his wife, Lorraine "Lori" Van Laar, Sioux Falls, SD; three children, Dwayne (Maureen) Lukens, Geraldine Van Laar and Beverly (Scott) Vreeland; four step-children, LeAnn "Beth" Tebben, Cheryl (Bruce) DeGroot, David (Connie) Baartman, and Shelly Smedsrud; two grandchildren; two great-grandchildren; and Loriís grandchildren and great-grandchildren; two sisters, Betty (Curtis) VanderZee and Darlene Van'tHul; and a host of other relatives and friends.
Gary was preceded in death by his son, Dustin Van Laar; parents, Marinus and Margaret Van Laar; siblings: Marvin Van Laar, Dean Van Laar, Wilma Rowland, Arlene Brasel and Mary Hoogland.