VAN ROEKEL, HENRY A. AND ALICE (FRANKEN)
Henry was born in Sioux Center on May 10, 1918 to Henry and Allie Van Roekel. He attended country school in Center Twp. No. 2. He worked with his father on the farm, eventually taking over the family farm.
Alice was born Feb. 5, 1921, in Sioux Center to Art E. and Hermina Franken. She attended the country school in Welcome Twp. No. 8. Alice helped on their family farm, also working for other families in the area.
On Dec. 5, 1945, at her parents home Alice and Henry ware married. They moved to Henry's family farm and farmed there until 1969. The family moved to Sioux Center, and Henry started working with Sioux Preme Pack. Alice continued working for the Holland House, working there for 22 years. Henry retired from Sioux Preme, but is still busy driving truck and various other chores for Ken Hulstein and Sioux Automation. Alice is presently working part-time as a customer greeter for Wal Mart.
Henry and Alice have five children: Conrad, born Oct. 9, 1946; Ila, born March 24, 1950; Claryce, born Jan. 7, 1954; Loren, born April 5, 1957; Mark, born July 16, 1962. Conrad, Ila, and Claryce attended country school, but when the country schools were closed they attended Sioux Center Schools. All five of the Van Roekel children graduated from Sioux Center Schools.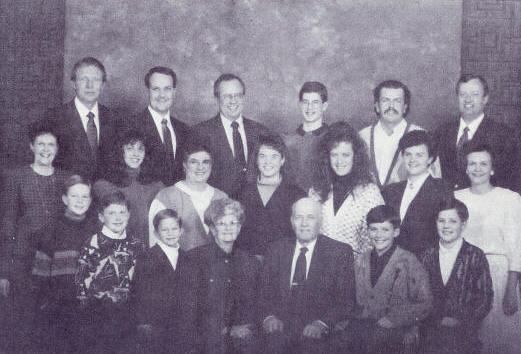 Henry and Alice Van Roekel family: Front row: Corey Schuiteman, Craig Schuiteman, Chad
Schuiteman, Alice and Henry Van Roekel, Tom Harskamp, Tim Harskamp. Second row: Claryce
Schuiteman, Sharon Van Roekel, Pat Van Roekel, Sherri Van Roekel, Lisa Gritters, Shantelle
Harskamp, Ila Harskamp. Third row: Mark Schuiteman, Loren Van Roekel, Con Van Roekel,
Scott Van Roekel, Mark Van Roekel, Dave Harskamp
After graduating from high school, Con attended De Vry Technical School in Chicago, Illinois. Con met Pat Marema while going to school in Chicago and they ware married there on July 7,1968. Con was drafted into the army after graduating from De Vry and served for a time in Vietnam. He was discharged from the army in 1970. He returned to college at this time, going to Western Michigan Univ. in Kalamazoo, Mich. They made their home there until 1972. Con got a job with Burroughs Corp. in Chicago. Pat worked with International Harvestore. They lived in Chicago until Jan., 1977, then moving back to Northwest Iowa. Con is presently employed with Jesco in Sioux Center, and Pat works with Vet Pharm in Sioux Center. Con and Pat have two children: Sherri, born Nov. 16, 1973, in Chicago, and Scott, born act. 17, 1977, in Sioux Center.
After graduating from high school, Ila attended Nettleton College in Sioux Falls, S.D. Ila married David Harskamp on August 22, 1970 in Sioux Center. While Dave finished college at UNI, Ila worked for a bank in Cedar Falls. After graduation Dave taught in Waterloo for 1 year, then the family moved to Early, Ia., where Dave taught with the Crestland School district. In 1976, the Harskamps moved to Sioux Center where Dave worked with Van Roekel Real Estate. He is presently the Industrial Arts teacher in Sioux Center High School, and Ila works with Moeller Insurance Agency. Dave and Ila have three children: Shantelle, born Nov. 28, 1972, in Cedar Falls, Ia.; Timothy, born June 25, 1976, in Sioux Center, Ia.; Thomas, born Jan. 18, 1978, in Sioux Center.
Claryce graduated from high school and attended Northwestern College in O.C. for two years. Claryce married Mark Schuiteman on July 11, 1975 in Sioux Center. After graduating from ISU, Mark started farming with his dad and brother, and Claryce worked as a secretary at Kinsey Elementary School. After living on an acreage near the home farm, Mark and Claryce moved into a home in Sioux Center. Mark and Claryce have three sons: Corey, born February 20, 1980 in Sioux Center; Craig born Nov. 4, 1981 in Sioux Center; Chad, born March 6, 1985 in Sioux Center.
Loren graduated from high school and attended WIT in Sioux City. After graduating from WIT he worked in Sioux City for a time as a draftsman, but left to take a job with circle K in Sheldon. In Jan., 1985, he moved to Florida where he met Sharon Whitlock. In Nov., 1985, the entire Van Roekel family spent Thanksgiving in Alabama to attend their wedding. Loren and Sharon have bought a home in Tampa, Florida. Loren is presently employed with Work Place Office Supplies and Sharon works for Curry Funeral Home as office manager.
Mark graduated from high school and attended Gateway Electronics in Omaha. After graduation he moved back to Sioux Center, and is presently working for JLM Swine.
By Clarice Schuiteman