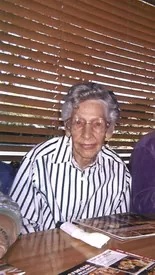 Ada Joan VanRoekel December 2 1920 June 24 2020 (age 99)
Posted on July 1, 2020 by dany
December 2 1920 June 24 2020 (age 99)
Ada Johanna Van Roekel, was born at home on the farm near Sanborn, Iowa on December 2nd, 1920. She was the fourth child of George and Fannie Van Roekel. Ada enjoyed school, earning a 'Perfect Attendance' certificate for her elementary school years. She attended Ashton High School, graduating in 1939. Her first car, which she was so proud of, was a 1946 Club Coupe. Ada took many adventures with friends to Washington, DC, and throughout the Midwest.
Ada was a dedicated employee, working 20 years as a bookkeeper for Seaboard Loans and Avco Financial Services Lompoc, Newport Beach, Santa Barbara and Ventura, California.
Ada was devoted to her family - often caring for her nieces and nephews spending much of her adult life traveling and living nearby her sister Frances' family in Florida, Maine and California. She spent many hours reading stories and playing games with her nephews Mike, Mark and niece Susan.
Ada gave back to her communities where she lived, volunteering with the USO during WWII, at the Antelope Valley Hospital Gift Shop in Lancaster, California and at the Lutheran churches where she lived. Church life was important to Ada, she was a member of St. Stephens of the Valley Lutheran Church in Palmdale, California.
Ada was preceded in death by her parents, her sisters Dorothy Ver Mulm (Jake), Bertha Van Roekel, Nancy Sinkey (Bill), Frances Benz (Earl) and brothers Richard Van Roekel (Shirlee) and Abe (Maxine).
She is survived by her nephews Mike and Deb Benz (Bend, OR), Mark and Nancy Benz (Cathedral City, CA) and niece Sue and Curt Fossum (Sacramento, CA) as well as many other nieces and nephews/great nieces and nephews.
Ada will be missed by all those who knew her - she always had a ready smile and sunny disposition to share with others.
No services are scheduled. To send flowers to the family or plant a tree in memory of Ada Joan VanRoekel, please visit our floral store. Our most sincere sympathies to the family and friends of Ada Joan VanRoekel