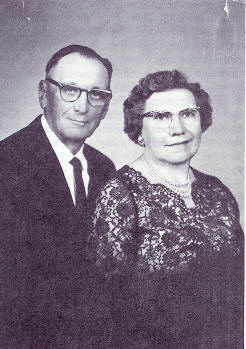 Gerrit and Helen Hulstein.
HULSTEIN, GERRIT W.
Gerrit W. Hulstein was bom April 8, 1895, the 5th son of William and Sjoertje (De Vries). After education in a rural school, he farmed with his father and brothers, Cornelius, Johannes, Richard and Seine. The brothers worked together in constructing and maintaining farm buildings as well as the usual crop and livestock work. He also had 2 younger sisters, Johanna and Reka. At the time of World War I, Gerrit was called to serve and did so in Arkansas.
Helen B. Beernink was the oldest of six children born to John and Jennie Beernink, who lived southwest of Sioux Center. Her birth date was February 18, 1898
Gerrit and Helen ware married December 24, 1935, just prior to the terrible winter of '36. They lived in a home in north Sioux Center for a short time before moving 4 l/2 miles west of town to a farm. Farming then included a flock of chickens with eggs to gather and clean, come to milk, and hogs and cattle to care for. Field work was done with horses. Gerrit owned a threshing machine and headed a threshing ring that rotated throughout the neighbourhood. This season was hard work, but, also, a highlight of each summer. Men and boys each had their jobs, while the women and girls prepared mountains of food for lunch and meal time. Corn picking time was another time of hard work. They hired neighbours to help get the job accomplished.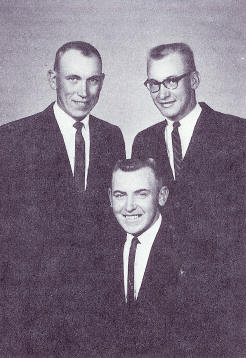 Sons of Gerrit and Helen Hulstein: L-R Wil-
mer, Roland, and Glen.
Gerrit and Helen had 3 sons born to them. Wilmer was born April 1, 1937. Then came Roland on September 13, 1938 followed by Glen on October 5, 1942. They all attended Plato #8 rural school and later, Sioux Center High School.
The Hulstein farm was in the path of the 1944 tornado. Helen and Gerrit rushed their boys and the hired man's family into the storm cave as the clouds threatened. They remember several men struggling to keep the roof of the cave in place as the tornado sucked anything movable into the air. They emerged to find the barn destroyed while the home was unscathed.
Sioux County soil, farming, and American ways were good to the Hulsteins; so they ware willing to invite others to share in the good life. In 1947, John and Dorothy Vande Pol came from Holland to find work and a home on the Hulstein farm. Then in 1949, they sponsored the coming of Henry and Christine Berenschat from the Netherlands.
So many changes came to the agricultural industry in the 30 years that Gerrit and Helen farmed together. Tractors replaced horses. Combines replaced threshing machines. Farming became more specialized, by the late '50s, only one cow survived the hard, to provide milk for just the family. Their dirt and gravel road was raised and blacktopped. They built a new farm home in 1948. War time had made many supplies, especially windows, difficult to get.
Helen had a garden and enjoyed both the vegetables and flowers. Her orchard yielded more apples than the boys cared to pick. Music and catechism lessons for the boys also kept her busy.
Wilmer graduated from S.C.H.S. in 1955. He then worked for his Dad and served with the Air National Guard. In 1950, he married Adella Juffer. They adopted 3 children, Anne, Jane and Jon.
Roland attended Northwestern College following his High School graduation in 1956. Then he served in the U.S. Army both at home and in Korea. He later got his Master's degree in social work at the University of Nebraska. He married Carol Bush. He has a daughter Rachel and a step daughter, Denise He resides Omaha.
1960 was the year that Glen graduated. He attended the winter agriculture course at ISU and worked for his Dad. He married Atty Kuiper. They had two daughters, Monica and Michelle. Wilmer and Glen still farm west of Sioux Center.
Gerrit and Helen retired to a new home 2nd Ave. in Sioux Center in 1965. Gerrit died in July 1975 and Helen followed in September of 1980. Their lives were hard working, patriotic, and God loving as individuals, parents and grandparents.
by Adella F, Hulstein