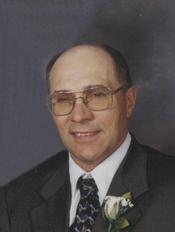 Wallace Van Roekel age 75 of Alvord, IA died Sunday, September 02, 2012 at the Lyon Manor Nursing & Rehab Center in Rock Rapids, IA. Memorial service will be 2:00 PM Thursday, September 6th at Christ Lutheran Church in Alvord, IA, with Pastor Corilee Boer officiating. Burial will follow at Christ Lutheran Cemetery in Alvord. Visitation will be Wednesday, September 5th from 2-8 PM with the family present from 6-8 PM at the Jurrens Funeral Home of Rock Rapids.
Wallace Dean Van Roekel was born on June 28, 1937 in Alvord, IA, the son of Arnold and Geraldine (Brinkhuis) Van Roekel. He attended school in Alvord and graduated from Alvord High School. After he graduated he enlisted in the U.S. Army for two years and served a year in a half in Korea.
On October 25, 1959, Wallace was united in marriage to Mary Katt. Wallace worked as a truck driver with his brother Loren from 1961 until 1970 and farmed near Alvord from 1970 to 2012. He was a member of the Christ Lutheran Church and the Dick DeBoer American Legion. Wallace was a Hawkeye fan and enjoyed watching and going to sporting events. He especially enjoyed watching his children and grandchildren. He also liked to travel.
Wallace is survived by his wife of fifty-two years, Mary Van Roekel of Alvord, IA; three children, Shari (Lou) Knobloch of Rock Rapids, IA, Larry (Debbie) Van Roekel of Larchwood, IA and Nancy (Tony) Trullinger of Westfield, IN; six grandchildren and one great-grandchild; sister, Judy Hinsch of Sioux Falls, SD; brother, Loren Van Roekel of Alvord, IA; and many nieces and nephews.
He was preceded in death by his parents, Arnold and Geraldine Van Roekel; and son-in-law, Bob Kirkland.