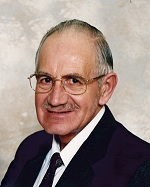 Doon, IA: Hans Van Roekel, 85, of Doon, Iowa died Wednesday, January 15, 2020, at Avera McKennan Hospital in Sioux Falls, South Dakota. Funeral service will be held Tuesday, January 21 at 2:00 PM at Porter Funeral Home in Rock Valley, Iowa with Rev. J.J. Witvoet officiating. Burial will follow at Valley View Cemetery of Rock Valley. Visitation, with the family present, will be held Monday, January 20, from 5:30-7:00 PM at Porter Funeral Home. Memorials may be given to the Doon Rescue Squad.
Hans (Johannes) Van Roekel was born October 28, 1934 on the farm by Rock Valley, the son of Willem and Willemina (Teunissen) Van Roekel. As a boy, the family moved north of Doon and he attended Garfield Country School to the eighth grade. He married Wilma Van Grootheest on December 14, 1955 at her parentsí home near Rock Valley. To this union two children were born, Willis and Henry.
Hans farmed until the early 1980ís and then drove truck long distance and local until his health would not allow him to continue. He fought and won two battles with cancer. Hans and Wilma moved to Doon to their present home in 1988, where he remained until a fall last Thursday, January 9. Hans was very particular with his cars and tools, to the point of even waxing his lawn mower. Keeping detailed paperwork on everything and knew pretty much where it all was at. Wilma passed away November 9, 2018.
Hans is survived by his sons, Willie (Glo) Van Roekel of Rock Rapids, Iowa and Henry (Trissa) Van Roekel of Sioux Falls, South Dakota; grandchildren, Amy (Darrin) De Boer, Amanda Huisman, Taylor (Kaleb) Heyer, and Zachary Van Roekel; great-grandchildren, Bailey and Mason De Boer, Josie, Kyndra, Kelsey, and CJ Huisman; sister, Bertha Van Grootheest; brother, Case Van Roekel; sister-in-law, Betty Piscitella; and several nieces and nephews.
He was preceded in death by his wife, Wilma; parents, Willem and Willemina Van Roekel; parents-in-law, Henry and Gertie Van Grootheest; brother-in-law, Ed Van Grootheest; sister-in-law, Tena Van Muyden; and sister-in-law and brother-in-law, Don and Grace Van Hill.
To send flowers to the family or plant a tree in memory of Hans Van Roekel, please visit our floral store.