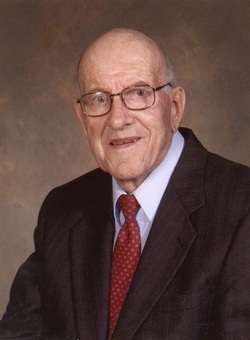 Joe Van Roekel, 92, of Sioux Center, IA died Wednesday, April 25, 2012 at Royale Meadows Care Center in Sioux Center.
A visitation will be held on Sunday from 3-8PM, with the family present from 3-5PM at the Memorial Funeral Home of Sioux Center.
A funeral service will be held on Monday at 10:30AM at the Bethel Christian Reformed Church of Sioux Center with Rev. John Lee and Rev. Duane Tinklenberg officiating. Interment will follow in Memory Gardens Cemetery of Sioux Center.
The Van Roekel family prefers memorials be directed to the Sioux Center Christian School.
Joe Van Roekel was born October 1, 1919 in Ede, The Netherlands to Jake and Netta (Beukhof) Van Roekel. He came to the United States at the age of seven months.
He was married to Margaret Broek on May 24, 1946 at Sioux Center. He worked for the City of Sioux Center until his retirement in 1985. He enjoyed spending time with his family and was a member of Bethel Christian Reformed Church.
His memory is cherished by his two sons and daughters-in law, Bernie and Marcia Van Roekel of Spirit Lake, IA, Norm and Laurie Van Roekel of Sun City West, AZ, and daughter Marlis Hulstein of Omaha, NE; six grandchildren: Allison (Chad) Vander Haar, Jamie (Allison) Van Roekel, Troy (Lindsey) Van Roekel, Dana (Josh) Bolluyt, Lacey Hulstein and Michael Hulstein; eight great-grandchildren: Connor, Madison and Levi Vander Haar, Tyler and Kellen Van Roekel, Lucas and Leah Bolluyt, and Tristan Hulstein; sisters- in-law, Winnie Van Roekel, Bertha Van Roekel, Hermina Van Roekel, Priscilla Broek and brothers- in-law John Broek, Delbert (Annafeen) Broek and many nieces and nephews.
He is preceded in death by his spouse; parents; daughter, Annetta; a sister Minnie Klarenbeek, five brothers: Tony, John, Jake, Cornie and Willie Van Roekel; four brothers-in-law: Bill Klarenbeek, Barney Broek, Dave Broek, Warren Van Roekel, and sisters-in-law Josie Van Roekel, Albertha Van Roekel, Lillian Van Roekel, Thelma Broek and Delma Broek.