ADDINK, DICK AND HILDA (KIEL)
Dick Addink was born December 10, 1918 on a farm near Sioux Center. He was the first son born to John and Jennie "Jane" (Lammers) Addink, who already had five daughters.
Hilda Kiel was born August 31, 1918, on a farm between Maurice and Orange City. She was the second child and first daughter born to John and Maria (Huisman) Kiel.
Dick and Hilda are of Dutch ancestry. Both of their grandfathers, Hendrik Addink and Steffen Kiel, were born in The Netherlands.
As a boy, Dick attended a country school, graduating from the eighth grade in 1932. When he was one month old the family moved to another farm naar Sioux Center where he lived until he married in 1940. In addition to helping on the family farm, at the age of twelve he started helping his father with his corn shelling business in the summer. At the age of fifteen he went out alone with the corn sheller. In 1939, at the age of twenty, he took over his father's corn shelling business and continued in the same business until he retired in 1981. At the time of his retirement, he had shelled 21,789,647 bushels of corn. During this time he also raised some chickens (1947-1962), ran a camper rental business (1964-1975), and sold Perkins and Curry seed corn (1975-1980).
When Hilda was three her family moved to a farm on Highway 10 four miles west of Orange City. She lived there until she married in 1940. She attended a country school, graduating from the eighth grade in 1932. After that she helped at home. There was plenty to do with a family of eleven children. Also, her grandfather, Steffen Kiel, lived with the family until his death in 1945; At the age of seventeen, Hilda started working as a domestic helper for other families in the community. She did this until she married at the age of twenty-two. From that time until 1976 she was at home raising a family of nine children. In 1976 she went to work part time as a cook at Dordt College, where she worked until 1984. Following this she and Dick spent more time traveling and visiting their children, who by this time were living in various parts of the United States.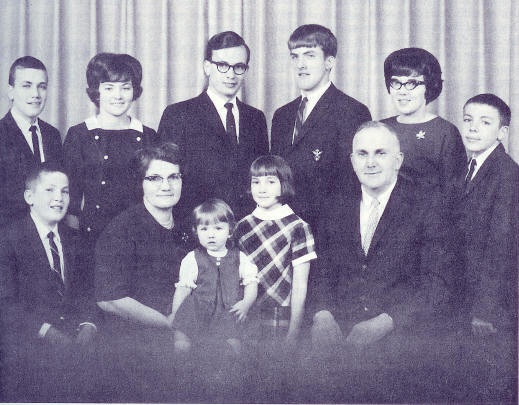 The Dick Addink Family in 1965. Back Row, L-R: Larry, Harriet, John, Duane, Marilyn, Ken-
neth. Front Row, L-R: Eugene, Hilda, Betty, Alona, Dick
Dick and Hilda were married on September 12, 1940. Their first home was on an acreage one mile west of Sioux Center. Their first child, John, was born there on September 9, 1941. In December, 1941 the family moved back to the farm place where Dick had grown up, living in their own separate house which they had built. Their second child, Marilyn, was born there on July 18, 1943. In 1947, the family moved into Sioux Center to a house at 319 First Ave. SW, where Dick's grandfather (Dirk Lammers) had lived until his death in 1944. Dick and Hilda purchased the house in December of 1944, and after renting it out for a couple of years, they moved into it themselves in March, 1947. The remaining seven of their children were born while they lived here, and this place continues to be their home today. The appearance of the place has changed considerably. The house was remodeled twice - in 1950 and again in 1974. In addition, the original garage was enlarged and three other garages and sheller sheds ware built as Dick's business and the family grew.
The seven children born during this time were Harriet born April 26, 1947, Duane born February 3, 1949, Larry Dean born September 13, 1950, Kenneth Leroy born August 26, 1952, Eugene born April 10, 1954, Alma Joy born August 24, 1956, and Betty Jo born August 14, 1964. One son, Calvin Jay born August 17, 1955, died September 11, 1955. He was born with an enlarged heart and lived only twenty-five days.
Since Dick retired from corn shelling in 1981, he bas worked part-time for Sioux Automation, making pick ups and deliveries locally, and to other states, traveling as far as Alaska. In addition, Dick and Hilda have traveled frequently - on vacations and to visit their children. They have been to all fifty states, plus Canada, Mexico, the Netherlands, and Germany. Many of the family trips over the years were fishing trips since Dick loves to fish.
At present their children are in seven different states. John and Mary (Bloemendaal) and their two children, Dirk and Maria, live in Bukler, Kansas. Marilyn and William Moore live in White Plains, New York. Harriet and M. James Martinus live in Alsip, Illinois, with their six children, Jacquelyn, Karen, Rachelle, Jill, Richard and James. Duane and Kathleen (Lyon) live in Jenison, Michigan with their four children, Helene, Scott, Tina, and Sara. Larry and Sharidee (Veltkamp) live in Belgrade, Montana with their five children, James, Cynthia, Nathan, Mikelle, and Timothy Jon. Kenneth and Barbara (Ribbens) live in Sioux Center with their four sons, Joseph, Jeremy, David and Benjamin. Eugene and Betty (Vander Schaaf) live in Rapid City, South Dakota with their two daughters, Abby and Gina. Alma and James De Vries live in Grand Rapide, Michigan with their children Michelle and Michael. Betty Jo lives in Sioux Center.
by Dick Addink