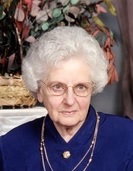 Winifred Van Roekel, 94, of Sioux Center, IA died Saturday, December 15, 2012, at Royale Meadows Care Center in Sioux Center. A visitation will be held on Tuesday from 4-8PM, with the family present from 5-7PM at the Memorial Funeral Home of Sioux Center. A funeral service will be held on Wednesday at 1:30PM at the Memorial Funeral Home of Sioux Center with Rev. Everett Adams officiating. Interment will follow the funeral service in Memory Gardens Cemetery of Sioux Center. In lieu of flowers or gift items, Van Roekel family prefers memorials to Sioux Center Home Health & Hospice or the Netherlands Reformed Christian School of Rock Valley, IA.
Winnie Van Roekel was born April 4, 1918 to Cornelius and Maartje (Vande Hoef) Vande Zandschulp at Perkins, Iowa. On February 27, 1950, Winnie married Anthony Van Roekel in Sioux Center, Iowa. The couple farmed for many years near Rock Rapids, Iowa. After moving into Rock Rapids, Winnie cleaned at the Doris Doty Store and various houses. When the couple moved to Hull, she cleaned the library and city offices. In her spare time, Winnie enjoyed keeping busy with crocheting or embroidery work that she gave to her family or the ladies aid at church. She was a member of the Netherlands Reformed Congregation of Sioux Center.
Survivors include one daughter, Jolene and Harlan De Stigter of Sioux Center; three sons: Ken and Glenda Van Roekel of Sioux Falls, South Dakota, Nelson Van Roekel of Rock Valley, Iowa, Martin and Pat Van Roekel of Sioux Falls, South Dakota; 8 grandchildren: Jeff and Lynn De Stigter of Hull, Jody and Walter Henry of Davenport, Iowa, Sheila De Stigter of Sioux Center, Tanya and Fernando Alverez of Sioux Center, Chad De Stigter of Houston, Texas, Sarah and David Vodnick of Prior Lake, Minnesota, Heidi and Eric Larson of St. Paul, Minnesota, Erik Van Roekel of Grand Forks, North Dakota; 6 great grandchildren; two sister-in-laws: Hermina Van Roekel and Bertha Van Roekel both of Sioux Center.
She was preceded in death by her husband, Anthony; brother and sister-in-law, Henry and Nellie Vande Zandschulp; sister and brother-in-law, Gert and Walter Bleeker; sister, Jennie Vande Zandschulp and one great granddaughter, Kelsee De Stigter. She was also preceded in death by brothers-in-law and sisters-in-law: Joe and Margaret Van Roekel, John Van Roekel, Cornie Van Roekel, Jake and Josie Van Roekel, William and Albertha Van Roekel; sister-in-law and brother-in-law, Minnie and Bill Klarenbeek.