HERMINA'S OBITUARY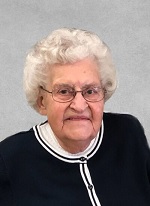 Hermina Van Roekel age 90 of Sioux Center, Iowa died Tuesday, November 2, 2021, at Sioux Center Health Center in Sioux Center, IA.
A funeral service will take place at 2:00 PM, Friday, November 5, 2021, at Netherlands Reformed Church in Rock Valley with Rev. J.J. Witvoet officiating. Burial will follow in the Memory Gardens Cemetery in Sioux Center.
Public visitation will be Thursday, November 4th with family present from 5:00 to 7:00 p.m. at the Memorial Funeral Home of Sioux Center.
The Van Roekel Family prefers memorials be directed to Netherlands Reformed Christian School.
Hermina Van Roekel was born on December 10, 1930, in Corsica, SD, the daughter of Herman and Jennie (Kaptien) Zomer. She grew up in Corsica and attended Country School there.
On February 20, 1953, she was united in marriage to Cornelius 'Cornie' Van Roekel of Alvord, IA in Corsica, SD.
Hermina worked several places throughout her life such as, a cook for Central Café in Sioux Center, Janitor at the Netherlands Reformed Church of Sioux Center, and as a CNA at the Sioux Center Hospital. She was a member of the Netherlands Reformed Church in Rock Valley.
Hermina loved her family and especially enjoyed her children and grandchildren's visits.
Hermina is survived by her seven children, Jerrold (Elaine) Van Roekel of Rock Valley, IA, Harlan (Gert) Van Roekel of Grand Rapids, MI, Patti Van Roekel of Ireton, IA, John (Sheryl) Van Roekel of Coopersville, MI, Jan (Randy) De Kruyf of Sioux Center, IA, Dennis (Glenda) Van Roekel of Sioux Center, IA and Cindy (Brent) Van Beek of Orange City, IA; 26 grandchildren, 84 great grandchildren and 9 great-great grandchildren; four sisters, Hattie Van Dyke of Grand Rapids, MI, Nina Koedam of Rock Valley, IA, Lene Walma of Corsica, SD and Fran Overweg of Grand Rapids, MI; two brothers, John Zomer of Sioux Center, IA and Alvin Zomer of Rock Valley, IA; sister-in-law, Sylvia Zomer of Corsica, SD; and several nieces, nephews and other extended family.
She was preceded in death by her husband, Cornie Van Roekel on September 1, 2011; her son, Jake Van Roekel; her parents, Herman, and Jennie Zomer; brother, Chet Zomer; sister, Jean Blom, infant brother, Herman Zomer; and several brothers and sisters-in-law.