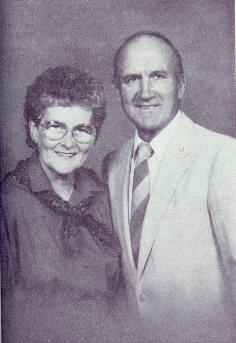 Gerald and Darlene Van Roekel - 35th
Anniversary
VAN ROEKEL, GERALD AND DARLENE (DOORNINK)
Gerald Van Roekel - the son of Neal and Dena Sneller Van Roekel was born March 5, 1934. He had 2 sisters and a brother to welcome and care for him. They lived on a farm 9 miles west of Sioux Center. His sisters, Alvina and Berniece, and a brother Delmar kept their parents very busy. When Gerald was four years old the family was quarantined with scarlet fever. Delmar became very ill and passed away. Grandma Sneller stayed with the children while the parents attended the grave side services. The following year (1939) the family moved to a farm 3 miles east of Sioux Center owned by Beert Rozeboom. Gerald attended school in West Branch No. 1 through the eighth grade. He then attended Sioux Center High School and graduated in 1951.
Darlene Doornink was born to Gerrit and Clara VanderZwaag Doornink on Jan. 8, 1934. ,at that time they were living on a farm 2 miles west of Sioux Center. She had one younger brother, Kenneth. She attended country school at West Branch No. 2, and later went to high school at Sioux Center. In 1951 these two young people met after crossing paths many times. They ware in the same grade in school. They both attended the First Reformed Church in Sioux Center and were members of Christian Endeavor for four years.
The entire family with both Grandpa and Grandma Doornink and Grandpa end Grandma
Van Roekel attending Brittany Van Roekel's - daughter of Brad and Rev Van Roekel - baptism.
Darlene went to Northwestern College for 2 years and then taught school for two years. During this time Gerald was farming with his Dad. In 1955 they were married and moved to a farm owned by her father. It was located one and one fourths mile north of Carmel.
They soon became a busy family. Their first daughter was named Debra and she now lives in Luverne, Mn. and is married to Merlin Wynia. They have 3 children. The next son Jerry, is married to Pam Van Holland and they are living 1 mile north of Carmel. They have a busy family of 4 boys. Next a little girl Shera arrived who has grown and is married to Robert Pender. They are living in Montivedeo, Mn. with their two daughters. Bradley was the fourth one to bless their home and is now living in England with his wife Beverly Barthel and their little daughter. Last but not least to come into this home was Rachel. She is attending U.S.D. at Vermillion.
While the family was growing up they appreciated very much to have Carmel Church only a short distance from their home. They were kept busy there with many activities and also worshipping there together.
by Gerald Van Roekel