WILLIAM MIERAS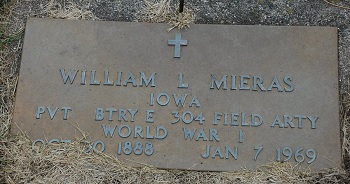 Funeral services were held Monday afternoon, January 13 at the Van Etten Funeral Home for William Mieras, 79 of Lakota, S.D. , whose death occurred on Tuesday, January 7.
Funeral services were held Friday January 10 for Mr. Mieras at Lakota. Graveside services were held at the Maurice Cemetery. Rev. Donald Lenderink, pastor of the Trinity Reformed church of Orange City officiated.
Surviving are one brother, George Mieras, of Orange City and two sisters, Mrs. Arie Raak of Orange City and Mrs. Jane Ferguson of Los Angeles, Calif.
Mr. Mieras was unmarried.
Sioux Center News 1969-01-16.