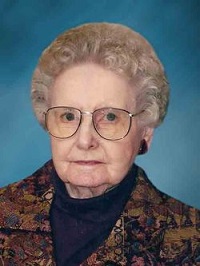 Sarah "Dolly" Reinsma, age 91, of Orange City, passed away on Sunday, January 5, 2014, at the Prairie View Home in Sanborn.
Sarah Ann was born on March 13, 1922, in Alton, the daughter of Pier and Alyda (Kosters) Wiersma. She was raised mostly in Orange City, where she attended elementary school.
On August 24, 1943, she married Jurrian D. Reinsma in Orange City. They made their home in Orange City, where she was a homemaker. She also worked at the DX Coffee Shop and later operated Dolly and Jerry's Coffee Shop, both in Orange City. "Jerry" passed away on December 11, 1996, in Orange City.
About 1999, "Dolly" became a resident of the Pioneer Memorial Home in Orange City. In 2008, she transferred to assisted living at the Prairie View Home in Sanborn.
She was a member of the Redeemer United Reformed Church and an associate member of the Cornerstone United Reformed Church in Sanborn. In earlier years, she participated in the women's organizations at her church.
Mrs. Reinsma was also a member of the Birthday Club. She enjoyed crocheting, reading, and playing dominoes.
Survivors include her son and his wife, Larry and Audrey Reinsma, of Wheaton, Illinois; a daughter and her husband, Lois and Frank Russell, of Shafter, California; a son-in-law, Richard Vanden Hoek, of Sanborn; nine grandchildren, seventeen great-grandchildren, a great-great-granddaughter; two sisters, Wilma Foreman and Helen Huizenga, both of Orange City; and a sister-in-law, Marie Wiersma, of Redlands, California.
In addition to her husband, she was preceded in death by two daughters, Lyla Beth Vanden Hoek and Leann Biesecker; a sister, Darlene White; and a brother, Kenneth Wiersma.
Obituary & Photo is from The Oolman Funeral Home