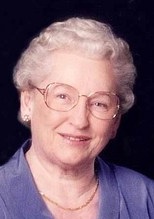 Mrs. Edith Van Roekel, age 78, of Orange City, passed away on Thursday, November 20, 2008, at the Orange City Area Health System Hospital.
There will be a funeral service on Saturday, November 22, at 10:30am, at the First Reformed Church in Maurice. The Rev. Mark Haverdink and the Rev. Wayne Sneller will officiate. Interment will follow at the Sherman Township Cemetery near Maurice. Visitation will be after 6:00pm on Friday, with the family present from 6:00pm to 8:00pm, at the Oolman Funeral Home in Orange City.
Edith Mae was born on June 16, 1930, at Leota, Minnesota, the daughter of Gerrit and Emma (Beukelman) Karssen. She was raised mostly at Alton, where she graduated from their high school.
On December 16, 1949, she married Howard Earl Van Roekel at Alton. They farmed at Maurice for fifty years and then retired to Orange City. In April of 2007, they became residents of the Happy Siesta Care Center in Remsen. Howard passed away on September 24, 2007, in Remsen, after 57 years of marriage.
Mrs. Van Roekel was a member of the Maurice Reformed Church, where she participated in the Women's Ministries, taught Sunday school classes, and sang in the choir. For the last several years, Edith and Howard faithfully watched the Christian Worship Hour on television on Sunday mornings.
She enjoyed handwork, reading, flowers, Bible studies, and visiting with her grandchildren and great-grandchildren.
Survivors include three daughters and their husbands, Sharon and Lee Plendl and Karen and Paul Bos, all of Maurice; and Janice and Carl Van Voorst, of Castlewood, South Dakota; two sons and their wives, Dennis and Jeanne Van Roekel, of Maurice; and Gerald and Amy Van Roekel, of Orange City; eleven grandchildren, Chris Plendl, and his wife, Michelle; Corey Plendl; Dean Bos, and his wife, Jean; Bruce Bos, and his wife, Amy; Angela, and her husband, Brian Klein; Amanda Van Voorst; Aaron Van Voorst, and his special friend, Ralyn; Janie, and her husband, Dan Haack; Monty Van Roekel, and his wife, Malinda; Jessica, and her husband, Andy Herda; and Alex Van Roekel; thirteen great-grandchildren; two brothers and their wives, Ed and Neva Karssen, of Alton; and Pete and Dorothy Karssen, of Orange City; and two sisters-in-law, Esther Mieras and Shirley Dykstra, both of Sioux City.
In addition to her parents and husband, she was preceded in death by a stillborn daughter, Vicki Sue, on August 21, 1969; three sisters-in-law, Catherine Karssen; Verna, and her husband, Vernon De Kock; and Mildred, and her husband, Irwin Reinking; and three brothers-in-law, Wallace Van Roekel, and his wife, Arnetta; Howard Mieras; and George Dykstra.
Memorials will be directed to the Maurice Church Library and the Christian Worship Hour with Pastor Salem.