RAYMOND VANDER BROEK
MILFORD, Iowa - Raymond Vander Broek, 72, of Milford, died Friday, Feb. 4, 1994, at his residence. Services will be 10 a.m. Tuesday at the First Lutheran Church, Milford, with the Rev. John Petersen officiating. Burial will be in Roseland Cemetery, Sanborn, Iowa. Visitation will be after 1 pm. today, with family present 6-8 p.m., at the Turner Funeral Home in Milford.
Mr. Vander Broek was born Sept. 24, 1921, at Maurice, Iowa, son of Gerrit and Nellie Vander Broek. He grew up on the family farm, attended public school in Maurice and worshiped at the Maurice Reformed Church.
In 1942, he joined the U.S. Air Force and flew missions over Sicily and North Africa as a tail-gunner in a B-52 bomber. After his time in the service he was a farmer, for 18 years near Sanborn and the past 26 years near Fostoria, Iowa.
He married Joyce Kleinwolterink of Sheldon, Iowa, Feb. 18, 1948. She died in October of 1972.
He later married DellaRae Roskens of Milford, Aug. 10, 1978.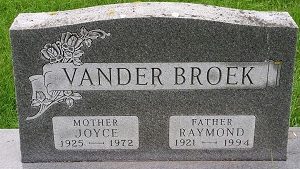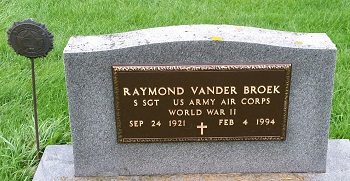 Survivors include his wife Della; two daughters, [redacted]; three sons and their wives, [redacted]; two stepdaughters and their husbands, [redacted]; a stepson, [redacted]; 20 grandchildren; two sisters, Myra Vander Broek of Maurice and Helen Vlieger of Chino, Calif., and his twin brother, Rob of Orange City, Iowa. He was also preceded in death by his parents and a brother, Norman.
Source: Local daily newspaper after 2-4-1994
Information from IaGenWeb, Sioux County Obituaries