Helen Ruth Van Der Broek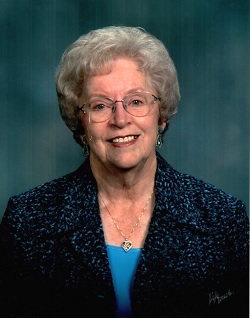 Helen R. Vlieger, age 88, of Ontario suffered a debilitating stroke on the afternoon of July 9, 2018 while at Kaiser Medical Center for a routine doctor visit. Her three children were at her bedside when she passed at 8:15pm.
She was born March 26, 1930 in Maurice, IA and raised on a family farm nearby. After graduating from Maurice High School in 1947 she attended business college. In 1949, at age 19, she married Vern Riphagen in Maurice, IA and in 1951 they moved to California when their first child (Barbara) was just a month old. They initially settled in the Artesia, CA area where other Northwest IAns had relocated. By 1961, Helen and Vern purchased their long-term residence on Oaks Avenue in Chino and Vern began his career in real estate sales.
Helen was married to Vern Riphagen for 37 years until his death in 1986 and then she married John Vlieger in 1987. John and Helen enjoyed 12 years of marriage until his death in 1999. After John's death, Helen sold her home on Oaks Avenue in Chino and moved ½ mile to Inland Christian Home in Ontario. Helen was a resident of Inland for her remaining years.
Helen was a long-time member of Chino Valley Reformed Church (currently named The Bridge) and for a time in the 1960's was the church secretary. The friendships established at her church became the centerpiece of her social life. Helen and Vern were active participants in bowling leagues for many years with other members of the church. While married to John, Helen and John continued to be active members of the same church and participated in its social events like the 55+ club. Helen worked as a secretary for Salem Christian Home for over 20 years.
Helen and Vern enjoyed RV camping with friends and relatives. Helen continued to enjoy RV camping and extensive travel during her marriage to John. While married to John, the retired couple would sightsee and visit friends/relatives with their RV. They were able to embrace their blended families and enjoyed being grandparents. Their extended RV trips spanned the US (including Alaska) and Canada.
Helen cherished her many friendships. She enjoyed playing games that fostered conversation. For Helen, coffee with a friend made it a good day.
Helen is preceded in death by her parents and all four older siblings. The surviving relatives include her three children: Barbara (and Darrel) Luttrull; Ron (and Carole) Riphagen; Brad (and Janet) Riphagen; 5 grandchildren, and 1 great-grandchild. By marriage to John Vlieger, Helen is also survived by his five children Jim (and Heidi) Shaw, Sandy (and Dave) Stone, Lee Ann (and Russ) Kane, Faye Vlieger, Don (and Karen) Vlieger, 24 grandchildren, and 27 great-grandchildren.
Visitation will be held, from 6:00p.m.- 8:00p.m. Thursday, July 19, 2018 at Draper Pearl Chapel 811 N. Mountain Ave. Ontario, CA 91762. Interment will be private. Memorial Service will be held Saturday 10:30 a.m at Inland Christian Home's Friendship Center at 1950 So. Mountain Ave., Ontario, CA.
In lieu of flowers, memorial contributions may be sent to: Inland Christian Home, 1950 So. Mountain Ave., Ontario 91761