Berdena Edith Roos, 77, Sheldon, died Tuesday, Oct. 19 at Northwest Iowa Health Center in Sheldon.
Services were Friday, Oct. 22 at Bethel Reformed Church in Sheldon, with the Rev. Brian Keepers officiating. Burial was at East Lawn Cemetery in Sheldon, under the direction of Vander Ploeg Funeral Home in Sheldon.
Berdena Roos, daughter of Bert and Jessie (Wieringa) Miedema, was born Aug. 6, 1927, in Hospers. She received her education at Hospers Christian School. After school she worked as a "Mother's helper" in different homes in Hospers. She also worked in the Sheldon Hospital before she was married. She married Kenneth Roos on Sept. 16, 1949, in Sheldon. They lived in Ashton for a year. They moved in 1951 to a farm four miles east of Sheldon. They moved into Sheldon in 1998.
She was a member of Bethel Reformed Church in Sheldon and the Reformed Church Women, Bible Study Groups. She taught Sunday School for several years. She loved her family and her friends, and food always made the circle complete. She enjoyed taking care of her kids and grandkiddies and she always kept the cookie jar full. She also loved animals - cats, dogs and her Holstein calves.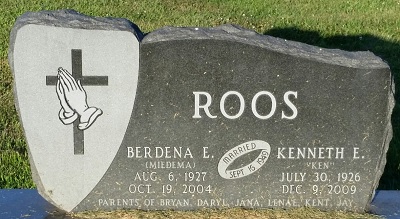 Survivors are her husband, Kenneth Roos; six children, Bryan and Lori Roos of Mahtomedi, MN, Daryl and Sharron Roos of Sheldon, Jana and Rick Hanson of Dell Rapids, S.D. Lenae and Robbie Harris of Morningside, Kent and Katie Roos of Minneapolis, MN; 10 grandchildren; two sisters-in-law, Mary Miedema of Sheldon; Shar Miedema of Edgerton, MN.
She was preceded in death by a 12 year-old grandson, Paul Roos in 1997; and a brother, Henry Miedema.
Source: Northwest Iowa Review 10/23/2004