Lawrence E. Van Roekel
September 15, 1926 - February 13, 2016
Lawrence Van Roekel, age 89, of Alton, passed away on Saturday, February 13, 2016, at the Happy Siesta Care Center in Remsen.
There will be a funeral service on Tuesday, February 16, at 2:00pm, at the Alton Reformed Church. The Revs. Michael Hardeman and Elizabeth Hardeman will officiate. Interment will follow the service at the Nassau Township Cemetery near Alton.
Arrangements are with the Oolman Funeral Home in Orange City.
Lawrence Elroy was born on September 15, 1926, at rural Maurice, the son of Benjamin and Jennie (Peuse) Van Roekel. He attended Sherman Township #8 grade school and helped on the farm until joining the United States Army. He was stationed in the Philippines and Japan during World War II. After returning from the service he continued to help on the farm.
On August 5, 1949, he married Gertrude De Vries in Orange City. They made their home on a farm near Maurice for nine years before moving to Alton in 1959. He hauled milk for 30 years, and after retirement worked part time in Mark's cabinet shop in Alton. Gertrude passed away on September 22, 2009, in Orange City. He moved to Happy Siesta Care Center in October of 2015.
Mr. Van Roekel was a member of the Alton Reformed Church, where he was a volunteer for Logo's. He enjoyed his flowers and wood working, and was a volunteer for the Orange City Area Hospice for many years.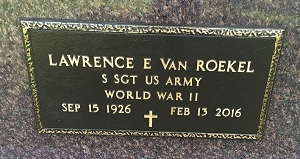 Survivors include his four children and their spouses, Gretchen and Peter Vande Poppe, of Alton; Lauren and Laurie Van Roekel, of Billings, Montana; Linda and Michael Isley, of Baxter; and Dave and Lynae Van Roekel, of Estherville; eight grandchildren, Angela Charles, Amanda Vande Griend, Allison Van Regenmorter, Erin Dailey, Sara Kane, Natalie Brown, Tyler Van Roekel, and Whitney Planting; fifteen great-grandchildren; two sisters, Frances Kroeze, of Sheldon, and Joyce, and her husband, Don Groen, of Maurice; and his special friends, Ruth Greving, of Alton; Leslie Greving, of Orange City; Luke and Maggie Greving, and their children Emmalyn and Eliott, Lana (Greving) and Travis Van Es, and their son Quinley, all of Alton.
In addition to his parents and wife, he was preceded in death by a brother-in-law, Gerritt Kroeze.
---
© Gijs van Roekel, Maarn 2005 - Ga naar
begin