Bernard A. Mouw, 77, of Boyden died Wednesday, May 25, in the Orange City Municipal Hospital.
Services were Saturday in the First Reformed Church in Boyden with the Rev. Robert Hector officiating. Burial was in Sheridan Township Cemetery at Boyden under direction of the Memorial Funeral Home in Sioux Center.
Mr. Mouw was born Feb. 12, 1911 in Rock Valley and attended rural Plato Township School.
He married Marie Rozeboom Aug. 26, 1937 at Carmel. The couple farmed near Sioux Center and Boyden, retiring into Boyden in 1975.
Mr. Mouw was an active member of the First Reformed Church and was active in community affairs.
Survivors include his wife; three sons, John of Carbondale, Ill., Kenneth of Sioux Center and Robert of Alton; two daughters, Janet Franke of Riceville and Phyllis Peterson of Olathe, Kan.; two brothers, Gerald and Melvin, both of Sioux Center; two sisters, Matilda Sandbulte and Juanaida Dibbet, both of Sioux Center; 16 grandchildren and four great-grandchildren.
A memorial has been established with the Norma Muilenburg Scholarship Fund at Northwestern College.
Sioux County Capital 1988-06-02.
---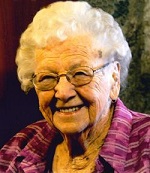 Marie Mouw, age 102, of Sioux Center, IA, died Saturday, December 29, 2018, at Royale Meadows Care Center in Sioux Center, IA.
Memorial service will be held 11:00 a.m. on Wednesday, January 2, 2019 at Central Reformed Church of Sioux Center, IA, with Rev. Van Rathbun, officiating.
Prayer service for family and friends will be held at 8:30 AM Wednesday at Memorial Funeral Home in Sioux Center. Interment will follow at Sheridan Township Cemetery in Boyden, IA.
Visitation with the family present will be held on Tuesday, January 1st, 2019 from 4:00 p.m. - 6:00 p.m. at the Memorial Funeral Home of Sioux Center.
Johanna Marie Mouw was born February 12, 1916 near Kanawha, IA to Tunis and Jennie (Roskamp) Rozeboom. She attended country school near Carmel in Sioux County. As a young person she was a hard worker and helped her parents with the farming. Being the oldest of nine children she also helped with the raising of her siblings. On August 26, 1937 she was united in marriage to Bernard Mouw at her parentsí home and then moved to the Mouw homestead near Sioux Center. In 1948 the young couple moved to a farm near Boyden, farming and raising their family there until retiring in 1975 at which time they moved into Boyden. While still on the farm Marie went back to school to get her certified nurses aide license. She worked as an aide for over 10 years. Her loving care helped many over this time. She also began working as a volunteer for Hospice and spent many years as a valuable member of the Hospice family. Her desire to serve was rewarded with the Hospice Volunteer of The Year awarded by Governor Terry Branstad himself. She always wanted to be of help to people. With her boundless compassion, she was looked at as a wonderful mentor to many. Marie loved to travel and was able to experience trips to all but 2 of our United States as well as several foreign countries. In 1988 Marie lost her husband Bernard. In January of 1990 she moved from Boyden to a condo in Sioux Center. She eventually moved to Crowne Point and onto Royale Meadows as her need for care advanced. It was there that Marie died on Saturday at the age of 102. She will be greatly missed.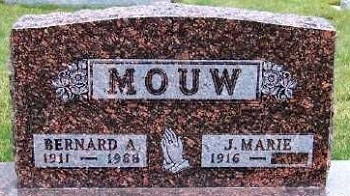 She is survived by son, John (Judie) Mouw of Davenport, IA; daughter, Janet Franke of Lake Havasu City, AZ; son, Ken (Colleen) Mouw of Elk Point, SD; daughter, Phyllis (Collyn) Peterson of Overland Park, KS; son, Robert (Shirley) Mouw of Alton, IA; son-in-law, Bill (Shirley) Muilenburg of Orange City, IA; 16 grandchildren; 35 great grandchildren; and several great-great grandchildren; sisters, Wilma Tiemeyer, Margaret Brock, and Marilyn Vander Esch all of Michigan and Arlene Bidwell of Sioux Center, IA; sisters-in-law, Donna Rozeboom of Michigan and Mina Mouw of Sioux Center; nieces, nephews and other extended family members.
Marie was preceded in death by her parents; husband Bernard; daughter, Norma Muilenburg; son-in-law, Dean Franke; granddaughter, Sheila Franke; great grandson, Daniel Sartwell; granddaughter-in-law, Kimberly Mouw; great granddaughter, Brittany Muilenburg.
[Source: Memorial Funeral Home]