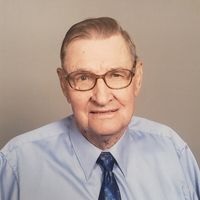 Clinton Van Roekel age 99 of Sheldon formerly of George, Iowa passed away Wednesday, September 8, 2021 at Sanford Sheldon Health Center in Sheldon.
There will be no public gathering at this time. There will be a celebration of life held at a later date. In lieu of flowers, the family prefers memorials directed to Hope Reformed Church in George or any charity of your choosing.
Clinton Christian Van Roekel was born May 21, 1922 to John G and Sarah (Te Grotenhuis) Van Roekel at their home four miles north of Sioux Center, Iowa. He was raised on the farm. His education was in rural school and Sioux Center High School, graduating in 1940, after which he continued working on the farm with his parents.
On August 21, 1947 he married Florence (Flossie) Scheffer in the Carmel Reformed Church. In March 1948 they moved to a farm on the south edge of George, Iowa in Lyon county. It was here they raised four sons, who all were involved in the dairy and diversified farming. Clinton continued this occupation to which he was dedicated and thoroughly enjoyed. He was a faithful member of the Hope Reformed Church where he served as deacon, elder and in other activities over the years. In the 1980's he served a term as a Lyon County Supervisor. In June 1980 they moved into their new home on the north edge of George. In March of 2020, they moved to Field Crest Senior Living in Sheldon, Iowa.
Clinton is survived by his wife of 74 years, Florence; his four sons, David (Arla) of George, IA, Dennis DVM. of Baldwin, WI, Paul (Shirlea) of George, Philip (Laura) of Ankeny, IA; also surviving are two granddaughters: Danielle (Jeff) Hrdlicka and Alisson(Isaac) Meyer; eight grandsons: Aaron (Beth), Kollin, Clint J (Laura), Kyle (Kim), Caleb (Casey), Matthew, Benjamin (Elizabeth) and Jacob (Emily) Van Roekel; 11 great grandchildren: Kylie (Zach) Morris, Sawyer (Sara) Hrdlicka, Kade, Conner, Cael, Grace, Jonathan, Anna Joy, Sylvia, Vivian, and Harper Van Roekel; 2 great great grandsons, twins, Aceston and Landrick of Kylie and Zach Morris; one brother, Arlin (Alvina) Van Roekel; as well as many nieces and nephews.
He was preceded in death by his parents John and Sarah Van Roekel and brothers: Gershom (Edna), Warren (Lillian), Merle (Jo Ann) and Reverend James (Erma Jean); great granddaughter, Makenzie Beth Van Roekel (Born sleeping- 12.3.2009); his wife's parents, Albert and Helena Scheffer and her siblings: Cornelius (Margaret) Scheffer, Emma (Esten) Brown, and Magdalena (Arie) Schimmel.