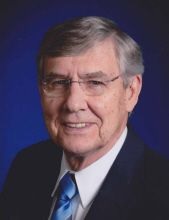 Rev. James Van Roekel, age 90, of Orange City, passed away October 21, 2020, at the Orange City Area Health System in Orange City, Iowa.
James Harold was born on November 10, 1929, to John and Sarah (Te Grotenhuis) Van Roekel, in Welcome Township, Sioux County, Iowa. He attended public schools there, Central College in Pella, Iowa, and Western Theological Seminary in Holland, Michigan. Upon graduation he was ordained as a minister in the Reformed Church in America.
On August 10, 1950, he married Erma Jean Van Wyk, and together they served churches in Illinois, Michigan, California, Wisconsin, Florida, and Iowa. Erma Jean passed away on March 7, 2011, after more than sixty years of marriage.
Survivors include his two daughters and their husbands, Ruth and Tim Nelson, of Independence, Iowa, and Mary and Mark Den Hartigh, of Minneapolis, Minnesota; five grandchildren, Michael Nelson, of Johnston; Anna, and her husband, David Jabbari, of Tiffin; Sarah Nelson, of Madison, Wisconsin; Matthew Den Hartigh, and his wife, Michelle, and Ashley Den Hartigh, all of Minneapolis; two great-grandchildren, Luke and Ella; and two brothers, Clinton Van Roekel, of Sheldon, and Arlin Van Roekel, of Waukee. In addition to his parents and wife, he was preceded in death by three brothers, Gershom Van Roekel, Warren Van Roekel, and Merle Van Roekel.
James' favorite bible verse was Philippians 1:21. Trust and Obey was his favorite hymn.
Private Family Graveside Service : 30 October 2020 - Nassau Township Cemetery
Officiant: Rev. Dr. Brian Keepers
Interment: Nassau Township Cemetery - near Alton, Iowa
Arrangements: Oolman Funeral Home - Orange City, Iowa
Source: Oolman Funeral Home