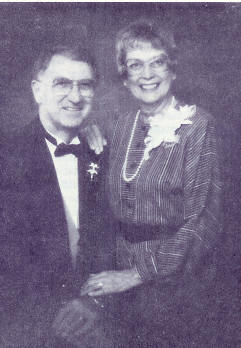 Dan and Shirley De Ruyter, taken 1984
DE RUYTER, DANIEL AND SHIRLEY JANE (VAN ROEKEL)
Dan was tbe fourth of five sons born to George and Jedidah (Ossewaarde) De Ruyter on March 23, 1930 in Sioux Center. Dan and his family were members of Central Reformed Church. As Dan grew up his interests were many including all sports, especially baseball and basketball, music, drama, fishing, hunting and scouting, achieving the Eagle Scout Merit Badge when he was seventeen. Dan was named to the IA All State Basketball Team his senior year of high school when the team won the consolation round of the Boys State Tournament and to the Hall of Fame in 1987. Upon graduation, Dan was a recipient of a full scholarship to Drake University where both bis basketball and scholastic abilities were proven. At the final home game of his senior year he was recognized for his service above self by receiving the Harald Ebert Medal for his efforts. Upon graduation, Dan was asked to join Omicron Delta Kappa, the Men's Honorary Leadership Fraternity and was also selected to represent the university in Who's Who Among Students. Dan earned a BA in Business Administration with an emphasis in retailing in 1952. Having enlisted in the Naval Reserve in June of 1948, he was offered an opportunity to attend Officer's Candidate School held during the summers of his junior and senior college career. Upon his completion, Dan was commissioned, was assigned to a patrol craft escort based near Chicago and was involved in training naval reservists on the Great Lakes during the Korean Conflict. Dan left the military in July of 1954.
Shirley Van Roekel, youngest of the three children of George G. and Arabella (Ruisch) Van Roekel was born February 19, 1929 in rural Alton, IA. The Van Roekels were members of Trinity Reformed Church in Orange City. Shirley's interests centered around music, drama and journalism in both high school and college. She graduated from Alton Public Schools in 1947, attended Northwestern Junior College in Orange City earning an elementary education degree in 1949. A drama award was received for her performance as "Mama" in "I Remember Mama". After working as a secretary and substitute teacher, she enrolled at Drake University in the fall of 1950 where she met Dan. Their marriage took place August 24, 1951. Having completed military service, Dan and Shirley moved to Sioux Center where Dan joined the family business. "De Ruyter Hardware". (See business history)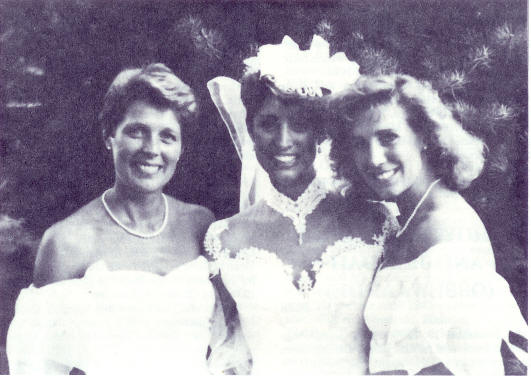 Daughters of Dan and Shirley De Ruyter, taken July 1986. L-R: Janet Kay (Mrs. Kevin Schmidt),
Susan Leigh (Mrs. Daniel Payer) and Kim Ann De Ruyter.
They are parents of Janet Kay, born October 4, 1954 (see Kevin Schmidt History), Kim Ann, born September 5, 1959 and Susan Leigh, born July 7, 1961. All three girls are graduates of Sioux Center Public Schools. Janet is a graduate of Augustana College in Sioux Falls, SD and teaches students with learning disabilities in Sioux Center. Kim graduated from IA State University with a degree in Fashion Merchandising and is employed by the Dayton-Hudson Company as Merchandise Manager in Tacoma, WA. Susan, a graduate of the University of Northern IA lives in Houston, TX and teaches sixth grade math in the Fort Bend School System.
Dan and Shirley have been active in all facets of the community. Dan has been actively involved in Legion, Chamber, Hospital, Sandy Hollow Golf, Re-development of Downtown Sioux Center and Central reformed Church. Shirley's interests include Women's Club, Legion Auxiliary, PALS, Campfire Girls, Ladies' Golf and choir and women's groups in Central Church.
In 1969, they opened a successful new business "The Young American Shoppe", a women's and children's specialty shop which Shirley managed until it was sold in 1985.
As a family, Dan and Shirley and their children enjoyed spending part of each summer at the family cottage, "KEMAH", on East Battle Lake in northern Minnesota. "KEMAH" has served the De Ruyters as a haven for "lots-of-togetherness".
by Shirley Jane De Ruyter