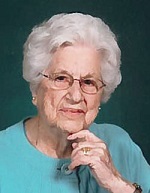 Evelena Van Gorp Roozeboom was born at her parents home on June 9, 1925, the daughter of John M. and Minnie Van Gorp. She graduated from Pella Christian High School in 1942. Following graduation she taught at Peoria Christian School and Leighton Grade School.
On February 6, 1948, Evy was united in marriage with Arie H. Roozeboom at her parent's rural home near Pella.
Evy passed away March 14, 2013.
She is survived by three daughters and sons-in-law: Barbara and Gary Renaud of Pella, Marcia and Dennis Vande Lune of Prairie City and Kathleen and Richard Roose of Pella; Two sons and daughters-in-law Ronald and Patty Rooeboom of Runnells, Steve and Bev Roozeboom of Pella; sixteen grandchildren, twenty-four great-grandchildren.
Of her original family, Evelena leaves her sister Matilda Vermeer and brother John Van Gorp.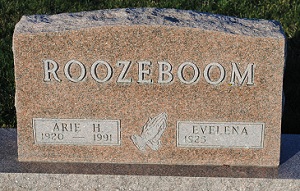 Evy was preceded in death by her husband, Arie who died January 8, 1991, at the age of seventy; her son, Duane Arie, who died in January 22, 2004 at the age of forty-seven; and great-grandchild, Zoe Anderson. Also preceding her was her sister, Gertrude Meinders, brother, Edward Van Gorp.
At the time of her death she was a member of the Covenant Reformed Church in Pella. She and her husband were members of the Prairie City Christian Reformed Church for many years as they raised their family.
Evy's church and family were most important to her. Evy, along with her husband Arie, worked hard cleaning the church and bank in Prairie City for years. She loved fixing wonderful food, gardening, reading, and needlework. Evy was also an enthusiastic Chicago Cubs fan. Visiting Wrigley Field at the age of eighty-four was a special memory. However, Evy's favorite games to watch were those of her children and grandchildren. She never missed an opportunity to show love and support for her family.
Evy's last two years of life were special to her as she was blessed to be able to spend time with her dear sister, Matilda.
Evy's family loved her in return. Special thanks go to her oldest daughter, Barb, and her oldest granddaughter, Lori, who lovingly cared for their mom and grandma on her journey home.
Published Pella Garden Chapel website