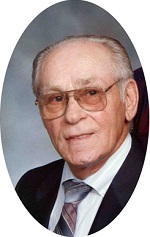 Nickolas Marinus De Ruiter, son of Cornelius and Lucy (Franje) De Ruiter, was born November 17, 1916 south of Taintor, Iowa. He passed away resulting in a car accident Thursday, April 5, 2007 in Pella, Iowa at the age of ninety years.
Nick received his education in the Pella area schools and lived in the Pella area for most of his life.
On August 10, 1938 he was united in marriage with Leona Van Gorp at the First Christian Reformed Church Parsonage in Pella. To this union four children were born: Donna, Robert, Carol, and Dwayne.
Nick drove a truck until he enlisted in the service. He served his country in the United States Navy during World War II. After his discharge in 1945 he again drove a truck. The family then moved to a farm north of Pella and farmed for eight years after which he returned to truck driving. He served as Marion County Deputy Sheriff for two and one-half years. He retired from trucking for Western Transportation and then worked part-time at Ring O Matic.
Nick was a member of Pella American Legion and Pella V.F.W. He was a member of First Christian Reformed Church. Nick enjoyed gardening, fishing, watching the eagles on the Des Moines River below the Red Rock Dam, and spending time with his family.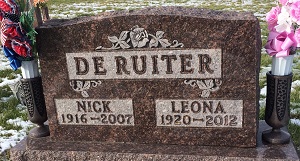 He is survived by his wife of sixty-eight years, Leona; his four children and their families: Donna Gabrielse of Kearney, Missouri, Robert "Bob" and Lavonne De Ruiter of Pella, Iowa, Carol and Bill Rauhauser of Lake Dallas, Texas, and Dwayne and Norma De Ruiter of Pella, Iowa; his sister, Margaret Vermeer of Marietta, Georgia; eleven grandchildren and twenty-seven great-grandchildren.
Nick will be missed by his family and many friends.
Garden Chapel Funeral Home
---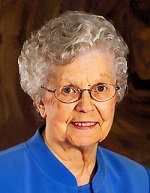 Harriet "Leona" De Ruiter was born February 18, 1920 northeast of Pella, Iowa, to Gerrit and Sarah (Buwalda) Van Gorp. She attended Warren School, rural Pella. She passed away Saturday, December 15, 2012, at Jefferson Place in Pella at the age of ninety-two.
On August 10, 1938, she married Nick De Ruiter. Nick and Leona had four children; Donna Jean, Robert Wayne, Carol Lynn and Dwayne Carl.
Leona spent all her married life in the Pella area. She worked for many years at Pella Overall Factory and later was employed by the Pella Community Hospital.
Leona was a gifted seamstress. All of her married life she did custom sewing, making wedding dresses, coats, prom dresses, and various garments. She had the ability to envision something and turn it into a finished product without a pattern.
A lifetime member of the Pella First Christian Reformed Church, she was a member of the Banner Committee, the quilting group, Pella Christian Mothers Club, Women's Auxiliary. She was passionate about mission work and was involved in any project that was going to help those who were in need.
Leona loved reading, gardening, baking, cooking, sewing, as well as many other activities. She was the happiest when she was busy.
She was preceded in death by her husband Nick; her son Bob; son-in-law Milton Gabrielse; grandson James Gabrielse; brothers: Marvin Van Gorp and Freeman Van Gorp; sisters: Lucille Van Kooten, Wilma Monast and Ila Joyce Van Gilst.
Leona is survived by three children: Donna Gabrielse of Oklahoma City, Oklahoma, Carol and Bill Rauhauser of Denton, Texas, Dwayne and Norma (Vander Werf) De Ruiter of Pella, Iowa; daughter-in-law, Lavonne (De Kock) De Ruiter; sisters: Ruth (Vernon) Ringenburg of Bloomington, Illinois, Dorothy Vander Pol of Oskaloosa, Iowa; brothers: Verlan (Marilyn) Van Gorp of Leighton and Eugene (Luanna) Van Gorp of Oskaloosa; as well as many grandchildren, great-grandchildren, great-great-grandchildren, nieces and nephews.
Published Pella Garden Chapel website