Abe Van Roekel was born on May 6, 1926, in Sioux Center, Iowa, to the late George and Fannie (Haagsma) Van Roekel.
In his youth he attended country schools near Sioux Center, Rock Valley and Sheldon. After school he worked on his parent's farm with horses and horse drawn machinery. Abe was drafted in 1950, served our country proudly in the U.S. Army and came home safe from the Korean War, earning the Korean Service Medal and Medallion from the Republic of South Korea.
After his service, he worked for the General Motors assembly plant in southern California before returning to Iowa in 1956 and worked construction in the Des Moines area. It was there he met and fell in love with the love of his life, Maxine Simmons. They married on September 7, 1958, in Villisca, Iowa. Together they enjoyed life in Iowa and Nebraska, living in Des Moines, Wilton Junction, Sioux City, Ashland, Council Bluffs, Onawa and Minden, and they were married for 52 years.
In 1960, they moved to Council Bluffs and he joined the Operating Engineers Local 571 as a heavy equipment operator and was a member for 29 years. While operating mostly cranes, he worked on bridges, buildings, water treatment and power plants. Abe enjoyed spending time with family and friends, fishing, camping, golfing, traveling and delivered Meals on Wheels, in Minden, for many years. He was always willing to give a helping hand to those in need, especially if something needed repair. He was very proud of his wife and children, grandchildren and military service, plus being a member of the American Legion and Minden United Church of Christ.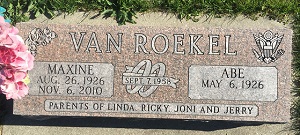 In addition to his parents, he was preceded in death by his wife, Maxine; daughter-in-law, Deb; 4 sisters, Bertha Van Roekel, Dorothy Ver Mulm, Nancy Sinkey, Frances Benz; brother, Richard Van Roekel.
Those left to cherish his memories are son, Jerry Van Roekel, of Council Bluffs; daughter, Joni (Charlie) Lehan, of Texas; step-daughter, Linda (Nick) Campbell, of Kan.; step-son, Rick Bryant, of Council Bluffs; grandsons, Jacob and Kyle; sister, Ada, of Calif.; brother-in-law, Earl Benz, of Nev.; nieces, nephews and many friends.
Visitation with the family, Friday, 6 to 8 p.m., at Cutler-O'Neill-Meyer-Woodring Bayliss Park Chapel. Funeral service, Saturday, 10:30 a.m., at the Minden, Iowa, United Church of Christ. Interment, Minden Cemetery, with military rites tendered by the Kanesville Riders Honor Guard. A lunch will follow at the church. The family will direct memorial contributions.