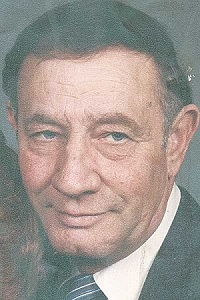 Richard VanRoekel
May 4, 1928- Jan. 8, 2009
Richard VanRoekel, 80, died Thursday, Jan. 8, 2009, at his Hermiston home. His memorial service will be at 2 p.m. Saturday at the Kingdom Hall of the Jehovah's Witnesses, 440 E. Pine Ave., Hermiston. Disposition was by cremation.
Mr. VanRoekel was born May 4, 1928, at Sioux Center, IA, to George Abraham and Fannie (Haagsma) VanRoekel. He was raised in Sheldon, IA. He served as a sergeant in the U.S. Army during the Korean Conflict. After the service, he moved to Garden Grove, Calif., where he met and married Shirlee Emily Adams. They were married there Aug. 30, 1958.
They moved in 1964 to Baker City, where Mr. VanRoekel worked in construction building roads and buildings. In 1975 they moved to Hermiston, where they have lived since. He was a member of the Jehovah's Witnesses and of the Laborers Union Local 121. He enjoyed fishing and camping.
Survivors include Shirlee Emily VanRoekel of Hermiston, his wife of 50 years; sons, Gerald Gene Hesseltine of Baker City; and Richard Mark VanRoekel of Boise, Idaho; daughter, Randy Lynn Sandknop of Boise; brother, Abraham VanRoekel of Minden, IA; three sisters, Dorothy VerMulm of Sandborn, IA; Ada VanRoekel of Palmdale, Calif., and Frances Benz of Pahrump, Nev.; seven grandchildren, Nathan Willems of Colorado Springs, Colo.; Stephen Sandknop of Portland; Ray Hesseltine of Haines; Yon Hesseltine of Concord, Calif.; Christopher VanRoekel of Seattle; Kathrine VanRoekel of Seattle; and Kassandra VanRoekel of The Dalles.
He was preceded in death by his parents, George and Fannie VanRoekel and two sisters, Bertha and Nancy.
Hermiston Herald [Oregon] - Jan/13/2009